Consider that when using traditional recruiting methods like newspaper advertising, mass mail-outs, and reliance on internal databases, 37% of study sites fail to meet their enrollment targets and 11% don't enroll a single participant. This causes significant delays and results in most studies nearly doubling their timeline to recruit enough qualified participants.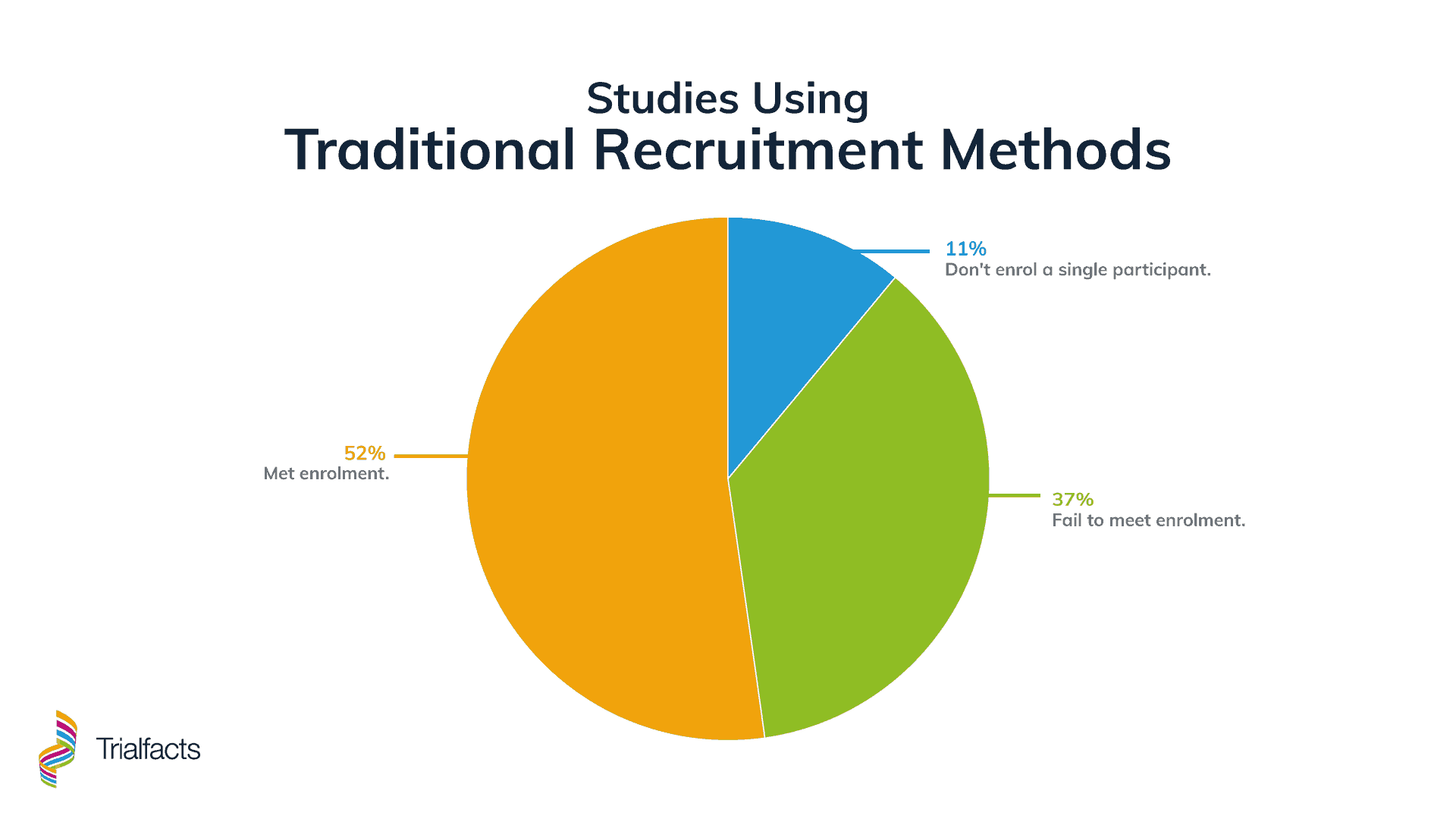 An inability to recruit participants for a clinical trial can not only impact timeline and budget but can also risk the study's findings. Evidence shows that a 20% or greater loss of participants due to a lack of follow up or a decision to drop out will have an impact on the study's internal validity because of potential bias.
During any clinical trial, there are key points in the design and execution of the study where the involvement of a patient recruitment company can be a big help. The services offered can extend beyond the actual recruitment of participants and can be an integral part of your planning process.
By using data-driven forecasting as part of our Due Diligence process, Trialfacts can help you accurately predict how many participants will be recruited based on inclusion and exclusion criteria at every step of the recruitment process. This not only saves you time and money but brings predictability and consistency to clinical trials.
When to Hire a Patient Recruitment Company
Often when patient recruitment companies are hired there is a problem, and it's long past the planning stages of a clinical trial when study protocol, timelines, and budget can be easily modified. Rather than waiting until there is an issue, a company like Trialfacts can be involved in the entire process and maximize your opportunities for a successful clinical trial from the start.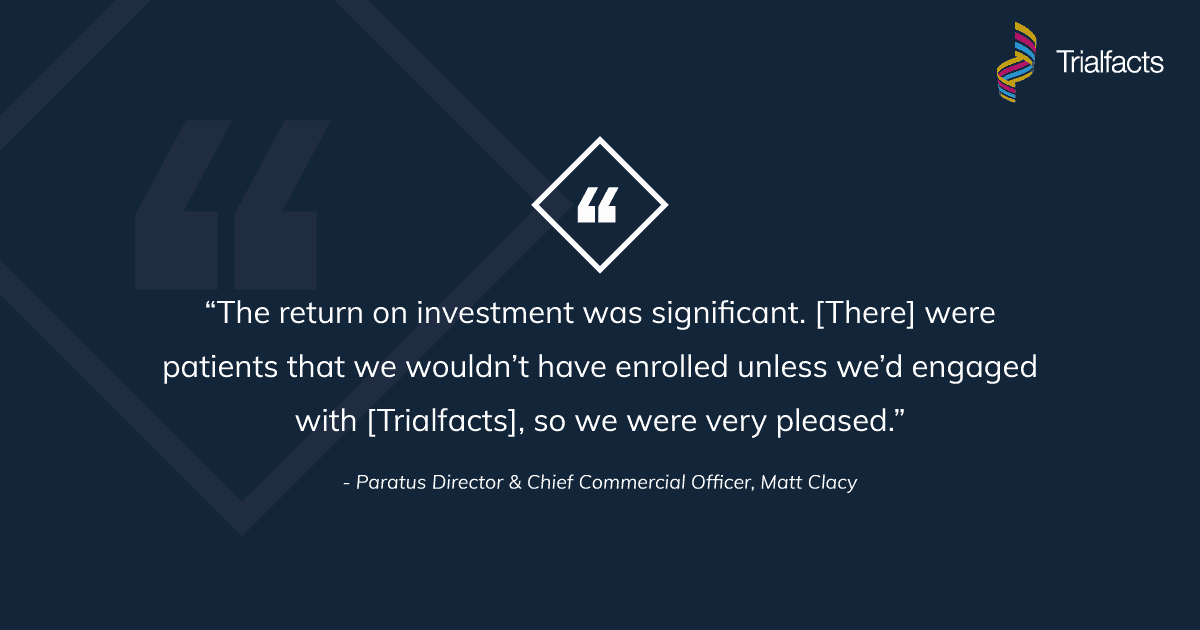 With access to data from over 60,000 participant volunteers in our database along with analytical data from 100s of the studies we've previously recruited for, we can identify key areas where recruitment may become an issue and you can modify your plans to mitigate these risks.
This includes important junctures when you're designing your study protocol, considering recruitment timelines and feasibility, trying to decide how many study sites to include, looking for a minority participant sample, or trying to rely solely upon on-site estimates as to the number of participants they think they can recruit.
Recently published literature supports using an upstream approach to planning for participant recruitment as an effective way to mitigate some of its challenges. In practice, this means that the study design team has taken into consideration all of the potential risks to successful recruitment and developed plans to manage or eliminate these variables.
Consider that our involvement in the early planning phases can save you significant time as our data-driven processes will show you precise numbers of how many participants can be expected to pass screening at each step. Rather than focusing on finding participants, the study team can focus on screening, enrollment and engaging with participants.
For example, Trialfacts worked with Paratus Clinical to help recruit participants for a study about acute sinusitis. The key to successful recruitment was the development of an effective online prescreening questionnaire to determine if a participant had acute or chronic sinusitis, instead of requiring an in-person visit. To make recruitment even more challenging, participants couldn't have had symptoms for longer than four weeks, which significantly narrowed the window where participants were eligible.
According to Paratus Director & Chief Commercial Officer, Matt Clacy, "The return on investment was significant. [There] were participants that we wouldn't have enrolled unless we'd engaged with [Trialfacts], so we were very pleased. Financially, it was a good return on investment."
How to Evaluate a Patient Recruitment Company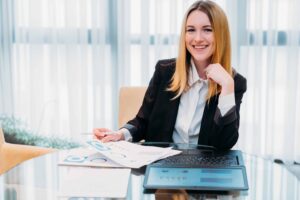 Not all patient recruitment companies are alike, and there are important considerations that can help you make the best choice for your project. For example, during your initial discovery with a company, ask about how many studies they're currently recruiting for. If the answer is a low number, you're best to look elsewhere because this could mean they're not experts in their field.
The same process can be used when asking about whether a company specializes in a certain therapeutic area. Usually, you'll want to work with a company that has demonstrated expertise in a number of therapeutic areas, this being reflective of the amount of work they've done to build their knowledge base. If a company indicates that they specialize in "all areas", this is often a sign that their skills may be limited.
Consider how they recruit participants. Do they do the work themselves, subcontract it out or use affiliates? If they don't do the recruitment themselves, there is a significant loss of control over the process which can lead to IRB/ethical issues. They also won't be able to provide assistance with identifying risks or helping in making protocol decisions.
Another area to explore is how they hand participants over to a site once identified. Participants should be provided with some background information about the study and an initial prescreening to determine if they're interested in participating. Trialfacts does a comprehensive prescreening to exclude as many ineligible participants as possible, which reduces the work the site must do and can increase site capacity. This can mean more enrollments done in a faster period of time.
Finally, examine how they work with the study sites, including ongoing support and review of recruitment data. Ask how they tailor participant flow to the sites and whether each site is forced to use a predetermined process for screening and onboarding. 
In both of these situations, recruitment efforts can be jeopardized as they're not reflective of actual conditions at the study location. Also, consider that conditions on-site and between study staff members have been shown to impact successful participant recruitment and retention. While this may seem insignificant, poor engagement with participants during a trial can result in higher drop-out rates. It can also result in much lower enrollment rates to begin with, which further compounds the problem.
Best Practices When Working with a Patient Recruitment Company
Regular and ongoing communication during the study is a critical factor in determining success. For example, Trialfacts schedules regular meetings between our team, the Contract Research Organization and the trial sponsor to review data, monitor progress, and discuss any problems or issues. This approach is also a great opportunity to address potential problem areas before they begin to affect the study. 
Another best practice is to regularly review the recruitment data, and ask to see more than just the number of participants recruited at each site. The company you're working with should be able to provide you with information about why participants are failing the screening at each stage (prescreening, phone and clinic), and whether these are on target with initial forecasting, both for the study overall and at the individual site level.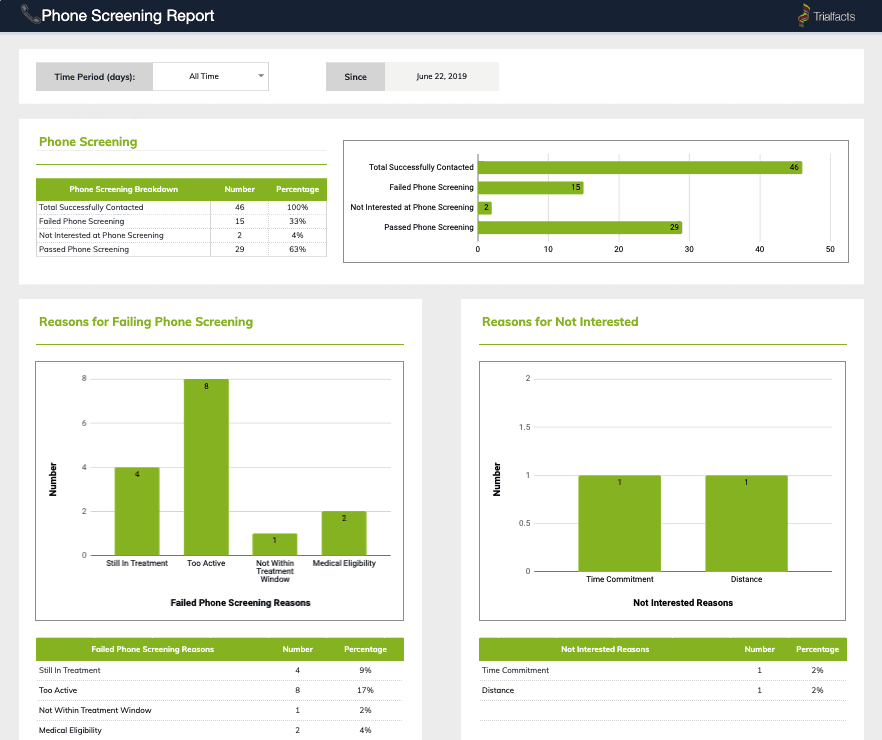 Trialfacts uses a data-driven approach to recruitment and provides detailed reports during each step.
Data should be driving the participant recruitment process from the beginning and any company should be able to quickly provide you with the information used to give you the number of participants they committed to. 
For example, Trialfacts worked with Dr. Lynette Roberts, a Clinical Psychologist, and Lecturer in the Discipline of Clinical Psychology, Graduate School of Health at the University of Technology Sydney, to recruit participants for a study involving depression and gut health. When asked about working with Trialfacts, she said:
"I really appreciate it when people don't overpromise and underdeliver. [Trialfacts] was really clear on the assumptions on the modeling—if things change, we will change the model, etc. Other services didn't seem as comprehensive [as Trialfacts]."
A potential red flag exists if a company wants to charge you upfront for the entirety of your recruitment campaign. This is a good opportunity to re-evaluate their services and determine if they're the right fit. The best approach in these situations is to ask for a small trial so you can see the results and then move forward with scaling the process across all your sites. If a company is confident in their processes, they should be willing to work with you to demonstrate their capabilities and guarantee the results.
Patient recruitment companies can provide you with the insight you need for your clinical trial from the early planning phases through to the completion of participant recruitment. By addressing participant recruitment early in your planning, you can mitigate many of the associated risks that can jeopardize a study. Trialfacts uses a data-driven Due Diligence process to bring consistency and predictability to participant recruitment. Contact us to find out more about how we can help you during any stage of the clinical trial process.