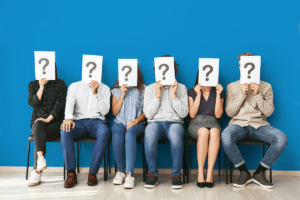 Participant recruitment is notoriously the most difficult part of a clinical trial. Between identifying potential participants, screening, and enrollment most studies spend an inordinate amount of time trying to find the right people to participate.
Nick Karrasch, Trialfacts' CEO, likes to describe what typical recruitment looks like without the Due Diligence process. Sites may try traditional methods like running advertisements in the newspaper or doing large postcard mailings. Some will create ads on social media and Google Ads, without real knowledge of how to use these platforms. Others will look to internal databases or local physicians to assist in identifying potential participants.
According to Karrasch, the normal process is to hope for the best but then most likely end up with poor results. All of these methods have potential and occasionally deliver, but when it comes to recruitment people have high hopes that rarely materialize.
This unpredictability adds a layer of complexity that can make managing a clinical trial both on time and on budget a challenge.
Trialfacts' Due Diligence process is designed to bring predictability and certainty to participant recruitment, using data-driven modeling to guarantee results. Having successfully recruited for hundreds of studies, the Due Diligence process is free of charge and is what sets Trialfacts apart.
Explaining Trialfacts' Due Diligence Process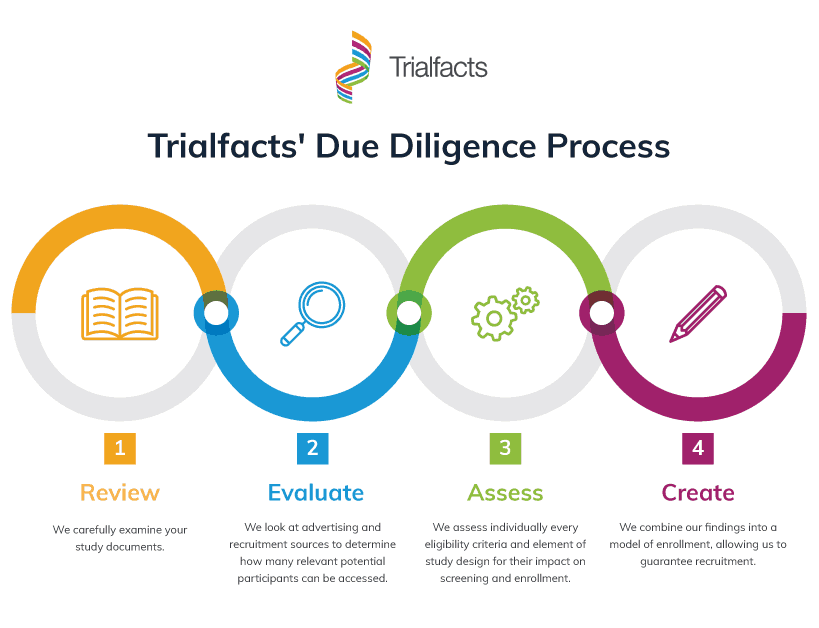 The Due Diligence process starts with a review of your study. We go through your information in detail to make sure we understand your protocol, the eligibility criteria for participants, your study design, and timeline.
During this stage, we review any current recruitment activities, what's worked for us previously with this participant population, and consider other factors that may impact enrollment and retention. A treatment protocol that involves an invasive procedure, such as going under general anesthesia, or one that may require a significant time investment, such as meeting in person for an hour every week, might be a big disincentive for potential participants.
The next step is to look at your eligibility criteria and the advertising and clinical trial recruitment sources that we have access to that include social media advertising (e.g. Facebook, Instagram, Youtube), search advertising (e.g. Google, Bing), mobile (smartphones and tablets), and our internal participant and volunteer database. Trialfacts will make an initial determination based on these sources as to the number of participants that meet the inclusion and exclusion criteria that can be recruited.
The final steps in the process are where we look at each inclusion and exclusion criteria and determine how many participants will be excluded from the study at the different stages of enrollment. Based on this information we can accurately determine the number of individuals that will be needed to meet your recruitment goals.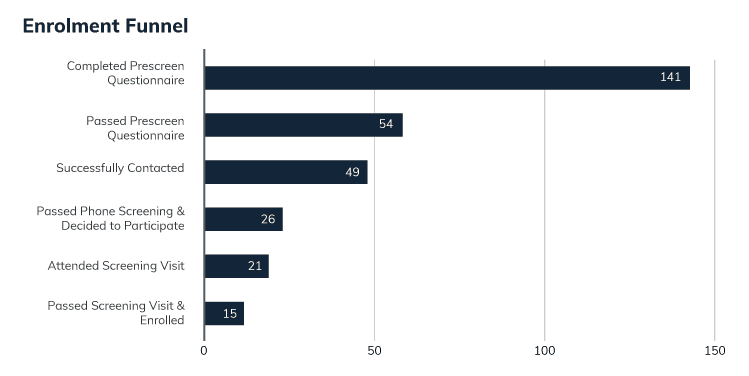 Trialfacts creates a unique Enrolment Funnel based on your study.
For example, Trialfacts worked with Adrianne Monsef, Associate Director of Strategic Product Development at Strategic Science and Technologies, to recruit participants for a study that had very strict exclusion criteria, in addition to including a potentially uncomfortable clinical procedure as part of the trial. As part of the Due Diligence process, we analyzed the impact of each exclusion criteria on potential participants, as well as the impact of the unpleasant procedure, and this enabled us to accurately forecast the number of necessary participants at each stage of the screening process.
This is how the Due Diligence process enables us to guarantee the right number of participants are recruited for your individual study. Our use of data to drive the process means consistency and predictability at every step.
According to Karrasch, "With the Due Diligence process, it's about looking at the data, looking at what's realistic and actually required, and then looking at what we can provide and we guarantee it."
From start to finish, the Due Diligence process can typically be completed in five business days, with options for faster turnaround available.
Understanding the Main Recruitment Factors
Having collected detailed data from recruiting for many hundreds of studies, we can provide accurate recruitment numbers for most common conditions. Trialfacts has worked with many different clinical trials, observational studies and other types of research and has extensive experience across a wide range of conditions and protocol designs.
When a participant registers with us to be involved in a clinical trial, we go beyond asking them for their name and contact information. We use this opportunity to ask participants as many questions as possible related to their health condition. This information then allows us to prescreen potential participants early on in the process.
"For every study, we know why people signed up, [and] what aspects of the study design they were unwilling to comply with… and then we know the percentage of people that said no. The same with the eligibility criteria. If they failed the screening we will know what percentage of that population is excluded at the different stages of screening," said Karrasch.
From our data we know that between 20% – 95% of potential participants typically fail the pre-screening questionnaire. This wide range illustrates how important the Due Diligence process is so that Trialfacts can determine the approximate number of screening fails for your particular study, and provide the necessary number of enrollments. Without this information gathered during Due Diligence, it often means that considerably more referrals are needed to reach recruitment goals than may be initially thought. This can stretch project timelines and budgets when sites are unprepared for this reality.
Our use of digital media and advertising strategies allows us to quickly adjust our marketing parameters based on the feedback we receive during the pre-screening sign-up. This provides for another level of predictability and consistency in the process.
For example, Trialfacts worked closely with Matt Clacy, Director & Chief Commercial Officer at Paratus Clinical, to maximize their return on investment while recruiting for an acute sinusitis study. Through the Due Diligence process, Trialfacts was able to accurately predict the amount of highly-engaged potential participants for the study. We worked closely with Paratus to develop a well-designed marketing strategy that resulted in an overall enrollment rate of 28%.
During the recruitment process, Trialfacts provided Clacy and his team with real-time information about the results from various digital advertising strategies that were in use. At one point there were several screening fails and we worked closely with Paratus to make changes in the pre-screening criteria, which were implemented immediately. The result was a much higher enrollment rate than any of the other strategies Paratus had tried.
Getting Started with Trialfacts
The process starts with completing our Due Diligence Questionnaire, and this is followed up by a phone call to ensure we have all your study details correct. We work with you to understand your current situation and your needs moving forward.
After you've provided us with information about your study, our team will have the Due Diligence process complete in five business days.
Once the Due Diligence process is complete, we share our analysis and break down the data used to develop your recruitment plan. You'll be able to see how we intend to recruit participants for your study and understand how we back our recruitment guarantee.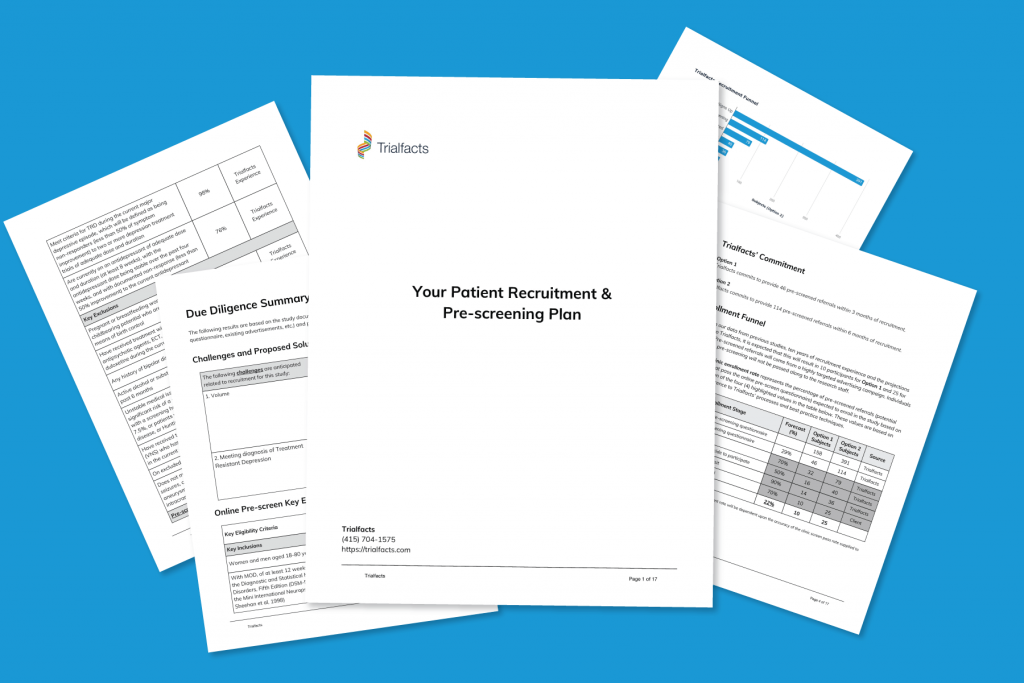 At this point, you can decide whether or not to move ahead with Trialfacts. The Due Diligence process is free of charge and there are no hidden fees.
If we're unable to deliver the guaranteed number of participants within the timeline we've committed to during the Due Diligence process, we offer a pro-rated refund with no questions asked.
By bringing predictability and consistency to the clinical trial process, Trialfacts offers services that are unmatched in the industry.
To get started on the Due Diligence process, complete the Recruitment Plan Request Form below.