Stressed at Work? Vitamin B Research Could Improve Your Mood, Cognition, Alertness and Significantly Reduce Anxiety
Please note: This trial has finished recruiting and is not accepting new participants.
Research Centre: Centre for Human Psychopharmacology, Swinburne University
Location: 427-451 Burwood Road, Hawthorn, VIC
Lead Investigator: Dr Luke Downey
Ethics Committee: Reviewed and approved by the Swinburne University Human Research Ethics Committee
Background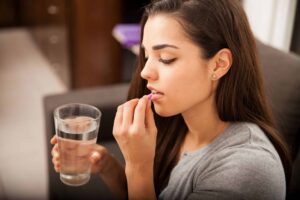 Chronic workplace stress can lead to a multitude of problems. If you ignore the warning signs, stress can lead to physical and emotional health problems such as high blood pressure and risk for heart problems.
Swinburne University is conducting a study to follow up on research showing that regular intake of Vitamin B showed improved alertness while significantly reducing symptoms of depression and anxiety.
Benefits to Participation
You could see a reduction of symptoms of depression and anxiety.
You could experience improved alertness, mood and cognition.
You will receive $100 ($150 neuroimaging participants) at the conclusion of the study.
You will be helping to advance research.
Your Rights
Your records relating to this study and any other information received will be kept strictly confidential.
Upon completion, the results of the study will be shared with you.
Qualified medical professionals will supervise your participation.
You will be able to withdraw from the study at any time.
Who Can Participate?
Men and women aged 30-65
Full time employees  who occasionally to often feel stressed in the workplace
Willing to take a B vitamin supplement twice daily for 6 months and have a blood sample taken as part of the study
Willing to visit Swinburne University for two separate 4 ½ hour testing sessions over a  6 month period
Depending on eligibility, you also have the option to participate in the neuroimaging component of the study