Sinus Infection Study Recruiting Participants
Research Centre: Captain Stirling Medical Centre
Location: 92 Stirling Hwy, Nedlands Western Australia
Research Staff: Dr. Michael Benson
Ethics Committee: This study has been reviewed and approved by the Bellberry Human Research Ethics Committee
Background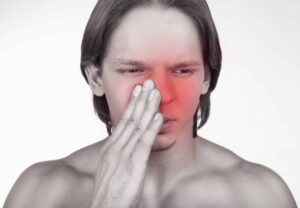 Sinus problems affect a sizeable part of the Australian population. Symptoms include blocked nose, congestion, facial pressure/pain, headaches, nasal discharge, and reduced sense of smell.
This study is comparing a point of care test for acute bacterial sinusitis (bacterial sinus infection) against the gold standard method of lab testing. The success of this study can mean doctors will be able to prescribe more accurate antibiotics to patients, so that patients can receive the best treatment possible.
This study seeks men and women who currently suffer from acute sinusitis (sinus infection lasting up to 4 weeks). Participants are required to attend 1 study visit at the research site and will be compensated with a $50 voucher.
Why Participate?
You will learn whether your sinus infection is bacterial

You will be compensated with a $50 voucher for participating in this study

You will be helping to advance medical research
Your Rights
If you decide to participate in the study and later feel that you no longer wish to be part of it, you may withdraw at any time.

Your records relating to this study and any other information received will be kept strictly confidential, except as required by the law.

Qualified health professionals will monitor your health as it relates to the study.
Who Can Participate?
Men and women aged 18+ who have a sinus infection for less than 4 weeks

Able to attend 1 study visit for 1 hour at the research site (near Perth)