Are You Diagnosed With Knee Osteoarthritis?
Please note: This trial has finished recruiting and is not accepting new participants.
Research Centres: School of Physiotherapy and Exercise Science, Curtin University and a Rheumatology Practice in Victoria Park
Location: Bentley campus, Kent St, Bentley WA
Lead Researcher: Professor Tony Wright
Ethics Committee: This study has been reviewed and approved by Curtin University Human Research Ethics Committee
Background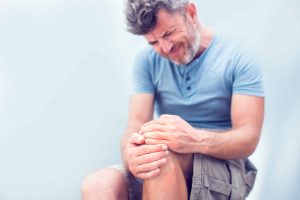 Osteoarthritis is a very common problem, particularly with an aging population and is a leading cause of musculoskeletal pain and functional disability.
The aim of this research study is to investigate the two main types of pain people with Knee OA experience, neuropathic pain and inflammatory pain, and uncover ways to develop a well-defined set of measures that can be used to classify a patient with knee osteoarthritis into a neuropathic or inflammatory pain category.
Neuropathic pain typically is more severe and more difficult to manage.  Research suggests that about 20% of OA sufferers experience features of neuropathic pain.
This study seeks men and women aged 50+ who have been diagnosed with Knee Osteoarthritis for at least 6 months are invited to participate.  Participants are required to attend 3 study visits at the research site over a 2 week period.
Why Participate?
You will be helping to develop potential methods to identify the type of pain being experienced by those with Knee OA and how to better treat patients experiencing neuropathic pain as a result of OA.

You will be offered a $25 gift card to compensate for travel costs.  

You will be helping to advance medical research.
Your Rights
If you decide to participate in the study and later feel that you no longer wish to be part of it, you may withdraw at any time.

Your records relating to this study and any other information received will be kept strictly confidential, except as required by the law.

Qualified health professionals will monitor your health as it relates to the study.
Who Can Participate?
Men and women aged 50+ who have been diagnosed with Knee Osteoarthritis for at least 6 months

Have

not

had a significant leg injury or surgery
Have

not

had a joint replacement

Have

not

been diagnosed with diabetes for more than two years

Able to attend 3 study visits at the research sites over approximately 2 weeks