Research Study Evaluating New Approach To Quitting Smoking
Please note: This trial has finished recruiting and is not accepting new participants.
Research Center: Brown University
Location: Brown University, RI
Lead Researcher: Chris Kahler
IRB Committee: This study has been reviewed and approved by the Brown University Institutional Review Board, Protocol #1605001486
Background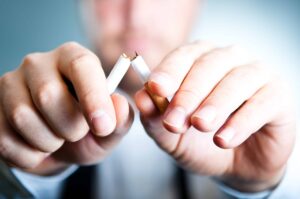 There are so many good reasons to quit smoking. Most smokers know that it's in their best interest to quit. Actually quitting, however, is a whole other thing.
Researchers are evaluating a new approach for counseling in smoking cessation that focuses on improving mood and using personal strengths. The study will also be evaluating whether text messaging  with participants can help them stay on track with their efforts to stop smoking.
This study seeks men and women who smoke at least 5 cigarettes per day. Participants are required to attend 6 counseling sessions by video conferencing  over a 2 month period, along with 3 follow-up sessions, at 12, 26 and 52 weeks after starting the study.  You may be compensated up to $140 for participating in this study.
Why Participate?
You may successfully quit smoking as a result of participating

You may be compensated up to $

140

for participating in this study.

You may help advance medical research.
Your Rights
If you decide to participate in the study and later feel that you no longer wish to be part of it, you may withdraw at any time.

Your records relating to this study and any other information received will be kept strictly confidential, except as required by the law.

Qualified health professionals will monitor your health as it relates to the study.
Who Can Participate?
Men and women aged 18+ who smoke at least 5 cigarettes per day

Able to attend 6 counseling sessions by video conferencing  over approximately 2 months