How Well Do You Manage Your Stress?
Research Center: UT Southwestern Medical Center
Location:
Dallas site: 6363 Forest Park Road, Bass Building, Suite BL13.408, Dallas, TX 75390

Ft. Worth site: 400 W. Magnolia Avenue., Fort Worth, TX 76104
Lead Doctor: Dr. Madhukar Trivedi
IRB Committee: This study has been reviewed and approved by the UT Southwestern Institutional Review Board
About the T-RAD Project (Texas Resilience Against Depression)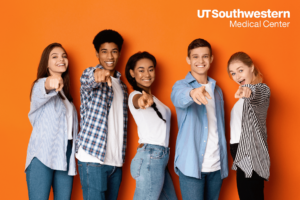 What factors help us to keep a healthy mindset when dealing with stress or adversity? Researchers are looking to better understand the biological and clinical factors that protect people who are at risk for developing depression or help determine how best to treat depression.
These carefully selected resiliency factors may be used in the future to improve our ability to understand, diagnose, and treat depression or help determine how best to treat depression.
The Texas-Resilience Against Depression Program consists of two longitudinal and observational (no treatment) studies: D2K – A Natural History of Depression study and RAD – Resilience in Adolescent Development study.  This program collects genetic, clinical, demographic, behavioral, and biological information from individuals at risk and those who have been diagnosed with depression or bipolar disorder. This program seeks adolescents and young adults between the ages of 10 and 30 who may or may not be at risk – or have been treated for –depression, bipolar disorder or anxiety disorders. Participants are required to attend at least one yearly(and up to 4 visits a year) study visit in person at the research site with flexibility in doing remote visits and may be compensated.
Why Participate? 
You will be helping researchers to better understand what factors make people resilient against depression and how to better treat symptoms

You may be compensated for participating in this study.

This is an observational study, therefore no treatments are required. 

You will be helping to advance medical research.
Your Rights
If you decide to participate in the study and later feel that you no longer wish to be part of it, you may withdraw at any time.

Your records relating to this study and any other information received will be kept strictly confidential, except as required by the law.

Qualified health professionals will monitor your health as it relates to the study.
Who Can Participate?
Individuals between the age of 10 to 30 years old 

Must be fluent in English

Must be willing to take part in a 10-year study

Must not have Schizophrenia, Schizoaffective disorder, or other chronic psychosis disorder

Must be able to attend at least one yearly (up to every 3 months, 4 times a year) study visits at the research site in Dallas or Ft. Worth locations for multiple years. 
About the Research Center:

UT Southwestern Medical Center
The University of Texas Southwestern Medical Center is a public academic health science center in the Dallas – Fort Worth Metroplex, Texas. With approximately 13,568 employees and 2,445 faculty and over 2.7 million outpatient visits per year, UT Southwestern is the largest medical school in the University of Texas System and state of Texas.