Research Study Promoting Bone Health
Please note: This trial has finished recruiting and is not accepting new participants.
Research Centre: CMAX Clinical Research
Location: 18a North Terrace Level 5, Adelaide, SA, 5000, Australia
Lead Researcher: Dr. Angela Molga
Ethics Committee: This study has been reviewed and approved by Bellberry Ethics Committee
Background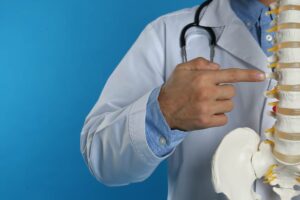 About 1.2 million Australians have osteoporosis. Osteoporosis is a condition that affects the bones. It causes the bones to become weak and fragile. This condition can be caused by many factors like age and having menopause. 
Researchers are exploring methods  to provide improved quality of life for those suffering from osteoporosis. This study seeks to investigate the effectiveness of a potential treatment for osteoporosis.]
This study seeks healthy men aged 25 to 55 years old or healthy women aged 25 to 45 years old. Participants must comply with all the study necessary study requirements. Through participation in this study, participants may provide valuable information that may help researchers determine the effectiveness of this investigational treatment.
Why Participate? 
You may help those with osteoporosis.

You will be compensated for participating in this study.

You will be helping to advance medical research.
Your Rights
If you decide to participate in the study and later feel that you no longer wish to be part of it, you may withdraw at any time.

Your records relating to this study and any other information received will be kept strictly confidential, except as required by the law.

Qualified health professionals will monitor your health as it relates to the study.
Who Can Participate?
Healthy men aged 25 to 55 years old or healthy women aged 25 to 45 years old

Able to attend 24 study visits at the research site over approximately 9 months as well as comply with the following requirements:

Willing to stay at the research site for 2 consecutive nights (3 days)

If smokes cigarettes, willing to refrain from smoking cigarettes (including e-cigarettes

If drinks alcoholic beverages, willing to refrain from alcoholic beverages 

Willing to refrain from caffeine and caffeinated drinks 
Please note:
Due to the current situation with COVID-19 pandemic, the study team would like to point out the following:
The research site does not treat COVID-19 patients and/or suspected COVID-19 patients.

The research site's waiting area is spacious enough that participants will not be within close proximity to each other.

Hand sanitisers are available at the research site.

The research staff adheres to strict hygienic practices as well as other safety measures to prevent the spread of COVID-19. 

Any staff suspected to have COVID-19, or has come into contact with someone who has COVID-19, will automatically undergo a voluntary quarantine for 14 days.

Interested participants will not be left waiting for a long period of time and will be quickly attended to. 

Paid parking is available at the research site.

The research site/institution is taking all precautionary measures to ensure the safety of the study participants.