Research Study Inviting Healthcare Workers at High Risk of COVID-19 Exposure
Please note: This trial has finished recruiting and is not accepting new participants.
Research Center: Vida Clinical Studies, LLC
Location: 3815 Pelham Street, Suite 4, Dearborn, MI 48124
Lead Doctor: Dr. Talal Khader
IRB Committee: This study has been reviewed and approved by IntegReview Institutional Review Board
Background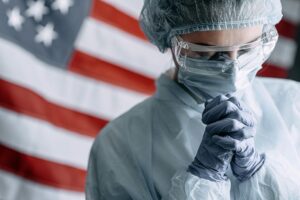 Preventive care is essential for those in the healthcare industry. There is a greater need for effective therapies to prevent  Viral Respiratory Infections (VRI),  especially in situations involving worldwide outbreaks. VRIs are a critical health concern due to the complications it presents.  COVID-19  (caused by  SARS-CoV-2)  is circulating around the globe and is posing a significant risk to healthcare workers. 
There is an urgent need for COVID-19 preventive care treatment. This study aims to investigate the effectiveness of a potential oral preventive care medication for COVID-19. 
Interested participants must be at least 18 years old and at risk of contracting COVID-19 due to the nature of their work. Participants must be able to attend the 4 study visits at the research site as well as comply with other study requirements for over 12 weeks. This study presents compensation for eligible participants. 
Why Participate? 
You may gain possible protection from viral infections such as COVID-19.

You may help advance preventive care from viral infections that may help others in the future.   

You will be compensated up to $200 for participating in this study.

You will contribute valuable information that may advance research for healthcare workers.
Your Rights
If you decide to participate in the study and later feel that you no longer wish to be part of it, you may withdraw at any time.

Your records relating to this study and any other information received will be kept strictly confidential, except as required by law.

Qualified health professionals will monitor your health as it relates to the study.
Who Can Participate?
Healthcare workers aged 18 years old or older. 

Please note:

A healthcare worker is defined as any of the following:

Provides healthcare services to patients 

Is in a situation that has close contact (within 6 feet) with patients 

Full-time employee (average of ≥ 24 hrs/week) in a high risk of contact such as the Emergency Department, Intensive Care Unit, COVID-specific Care Unit, Walk-in Clinic, Paramedic/First Responder

Able to attend 4 study visits at the research site as well as comply with the following study requirements for over 12 weeks:

Must be able to take the study medication as well as a B complex vitamin twice a day as directed by the study team

Must be able to complete electronic diary (e-diary) entries  
Please note:
Due to the current situation with COVID-19 pandemic, the study team would like to point out the following:
The research site does not treat COVID-19 patients and/or suspected COVID-19 patients.

The research site's waiting area is spacious enough that participants will not be within close proximity to each other.

Hand sanitizers are available at the research site.

The research staff adheres to strict hygienic practices as well as other safety measures to prevent the spread of COVID-19. 

Interested participants will not be left waiting for a long period of time and will be quickly attended to. 

Parking is available at the research site.

The study team encourages the use of personal vehicles, taxi or rideshare services rather than public transit.

 

The research site/institution is taking all precautionary measures to ensure the safety of the study participants.