Researchers Are Exploring A New Potential Treatment for Scalp and Body Psoriasis
Please note: This trial has finished recruiting and is not accepting new participants.
Research Centre: Sinclair Dermatology
Location: Level 3, 2 Wellington Parade, East Melbourne VIC 3002
Lead Doctor: Dr. Rodney Sinclair
IRB Committee: This study has been reviewed and approved by Bellberry HREC Human Research Ethics Committee
Background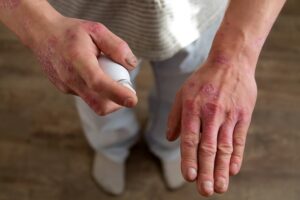 About 1-2% of people are affected by psoriasis around the world. Psoriasis can cause significant discomfort due to severe itching and can greatly impact the daily life of a person. Researchers are focusing on developing more effective treatment options for those with psoriasis.
This study seeks to assess the tolerability and safety of a new potential treatment for body psoriasis. This potential new treatment is a gel that is meant to be applied topically. This study may also help participants know more about their condition as well as any potential future treatments being developed for body psoriasis.
Researchers seek  adults aged 18 – 75 years old. They must be diagnosed with at least mild to moderate body plaque-type psoriasis with a patch of psoriasis anywhere on the body that's amenable to treatment with a gel, about the size of a 50-cent coin. Participants must be willing to attend the screening appointment at Sinclair Dermatology. They must also be willing to stay 2 nights at Nucleus Network for inpatient stay and required to attend a follow visit. The duration of the trial will be 1 week. Nucleus Network is located on Commercial Rd in Melbourne (a 5-10-minute drive from Sinclair Dermatology). You will receive travel reimbursement and will be paid for your time. 
Why Participate? 
You may experience potential relief from symptoms of psoriasis.

You will receive the investigational medication and regular medical consultations at no cost.

You may help others with plaque-type psoriasis in the future.

You will be helping advance medical research.
Your Rights
If you decide to participate in the study and later feel that you no longer wish to be part of it, you may withdraw at any time.

Your records relating to this study and any other information received will be kept strictly confidential, except as required by law.

Qualified health professionals will monitor your health as it relates to the study.
Who Can Participate?
   

Adults aged 18-75 years of age.

   

Must be diagnosed with mild-moderate body plaque-type psoriasis.

   

Willing to stay 2 nights at site for dosing and monitoring.
Please note:
Due to the current situation with COVID-19 pandemic, the study team would like to point out the following:
The research site's waiting area is spacious enough that participants will not be within close proximity to each other.

Temperature checks are performed on entry and masks are provided.

Hand

sanitisers

are available at the research site.

The research staff adheres to strict hygienic practices as well as other safety measures to prevent the spread of COVID-19. 

Any staff suspected to have COVID-19, or has come into contact with someone who has COVID-19, will automatically undergo a voluntary quarantine for 14 days.

Interested participants will not be left waiting for a long period of time and will be quickly attended to. 

On-street parking is available outside the centre.  Reasonable parking costs will be reimbursed. 

Reimbursements will be given for those who travel to the site in a taxi.

The research site/institution is taking all precautionary measures to ensure the safety of the study participants.