Researchers at MUSC Inviting Adult Smokers to Participate in a Study on E-Cigarettes
Research Center: Medical University of South Carolina (MUSC)
Location: Charleston, SC 29425
Lead Investigators: Matthew Carpenter, PhD and Tracy Smith, PhD
IRB Committee: These studies have been reviewed and approved by MUSC Institutional Review Board
Background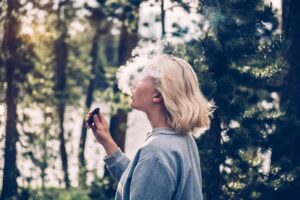 Recent studies suggest that e-cigarettes may be less harmful than tobacco cigarettes. However, further research still needs to be done to confirm the validity of such claims. 
These studies seek to understand the relationship between using e-cigarettes and overall smoking behavior, including regular tobacco use. Further, these studies may contribute valuable information that may be of use to the FDA to help inform guidelines for public health.
Researchers are inviting adults aged 21 years and older who currently smoke cigarettes. Participants must have daily internet access, comply with all the study requirements, and attend all the necessary study visits at the research site. Eligible participants will be compensated between $245 and $465. 
Why Participate? 
You may receive an e-cigarette at no cost (and may need to return it after the study). 

You may help researchers understand how using e-cigarettes affects smoking habits.

You may contribute information that might help better inform the FDA around guidelines for tobacco products and potentially improve public health.

You may be compensated up to $465 for participating in one of these studies, depending on the study and completion of procedures.

You will be helping advance research.
Your Rights
If you decide to participate in the study and later feel that you no longer wish to be part of it, you may withdraw at any time.

Your records relating to these studies and any other information received will be kept strictly confidential, except as required by law.

Qualified health professionals will monitor your health as it relates to the study.
Who Can Participate?
Men and women aged 21 years old and above who currently smoke.

Must have daily internet access.

Able to comply with all study requirements and attend all study visits at the research site.

Must fill out short online diaries daily (about 2 minutes to complete)
Please note:
Due to the current situation with COVID-19 pandemic, the study team would like to point out the following:
The research site does not treat COVID-19 patients and/or suspected COVID-19 patients.

The research site's waiting area is spacious enough that participants will not be within close proximity to each other.

Hand sanitizers are available at the research site.

The research staff adheres to strict hygienic practices as well as other safety measures to prevent the spread of COVID-19. 

Any staff suspected to have COVID-19, or has come into contact with someone who has COVID-19, will automatically undergo a voluntary quarantine for 14 days.

Interested participants will not be left waiting for a long period of time and will be quickly attended to. 

Parking is available at the research site.

The study team encourages the use of personal vehicles, taxi or rideshare services rather than public transit.

 

The research site/institution is taking all precautionary measures to ensure the safety of the study participants.