Testing a Screening Method That May Predict Who Positively Responds to SSRIs for Treatment of PTSD
Research Center: VA Boston Healthcare System Jamaica Plain Campus
Location: 150 S Huntington Ave, Boston, MA 02130, United States
Lead Doctor: Suzanne Pineles, Ph.D.
IRB Committee: This study has been reviewed and approved by the Institutional Review Board at VA Boston Healthcare System
Background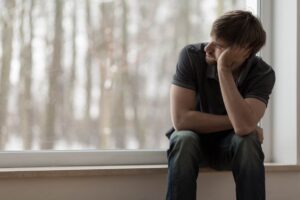 Post-traumatic stress disorder (PTSD) is a mental health condition that can develop following a traumatic event. A person suffering from PTSD may experience unwanted and intrusive memories of the trauma, nightmares, and anxiety. Antidepressants such as Selective Serotonin Reuptake Inhibitors (SSRIs) are currently a recommended treatment for PTSD. However, to date, there has not been a screening test to determine who will benefit from SSRIs and who will not.
This research study seeks to evaluate the effectiveness of a brief screening method that may predict who with PTSD is mostly likely to respond positively to SSRI medications. The study involves a few tests measuring the electrical brain activity towards a series of loud sounds.
Interested participants must be diagnosed with PTSD. They should be interested in trying out SSRIs as a potential option to treat PTSD. Participants must attend 12 study appointments over a period of about 4 months. Five of the study appointments will include in-person and remote portions, and the remaining 7 sessions will be completely remote for a total of 12 study sessions.
Why Participate? 
You may be helping others with PTSD in the future.

You may help researchers determine the effectiveness of a method that can predict who responds positively to a potential PTSD medication.

You will be compensated up to $560 for participating in this study.

You will contribute to advancing psychiatric research.
Your Rights
If you decide to participate in the study and later feel that you no longer wish to be part of it, you may withdraw at any time.

Your records relating to this study and any other information received will be kept strictly confidential, except by law.

Qualified health professionals will monitor your health as it relates to the study.
Who Can Participate?
Men and women aged 18 to 70 years old who are diagnosed with PTSD.

Interested in trying out SSRIs as a potential option to treat PTSD.

Able to attend 12 study appointments over a period of about 4 months-7 of these appointments are conducted fully remotely and 5 of these appointments have in-person tasks.

Please note:

A study appointment may take about either 45 minutes (minimum) up to 4 hours (maximum) to complete.

This study will have 5 study appointments that include both in-person and remote components. The other 7 appointments will be completely remote sessions. 

Participants will need to be able to access the internet and have an internet and video capable device (i.e., smartphone, tablet, laptop).

Participants will need to have access to a private location to complete the remote study visits/ study activities.
Please note:
Due to the current situation with COVID-19 pandemic, the study team would like to point out the following:
The research site's waiting area is spacious enough that participants will not be within close proximity to each other.

Hand sanitizers are available at the research site.

The research staff adheres to strict hygienic practices as well as other safety measures to prevent the spread of COVID-19. 

Any staff suspected to have COVID-19, or has come into contact with someone who has COVID-19, will automatically undergo a voluntary quarantine for 14 days.

Interested participants will not be left waiting for a long period of time and will be quickly attended to. 

Parking is available at the research site.

The research site/institution is taking all precautionary measures to ensure the safety of the study participants. 

The majority of the appointments will take place remotely, only 5 study appointments will be held in-person at the research site.