Researchers Looking Into The Potential Effectiveness of A New Hormone Replacement Therapy for Postmenopausal Women
Please note: This trial has finished recruiting and is not accepting new participants.
Research Centre 2: PARC Clinical Research
Location: Level 4G.1, East Wing, Royal Adelaide Hospital,Port Road, Adelaide,South Australia, Australia 5000
Lead Researcher: Dr. Louise Hull
IRB Committee: This study has been reviewed and approved by Central Adelaide Local Health Network Human Research Ethics Committee
Background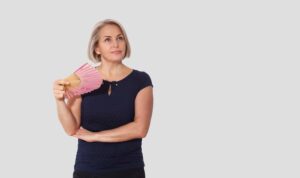 Menopause is usually seen in women 51 years and older. Menopause typically comes with the following symptoms: hot flushes, night sweats, vaginal dryness, pain during intercourse (dyspareunia), sleep disturbances, and joint pain (arthralgia).  
Some women express that menopause can be debilitating. Researchers are looking into alternative ways that can provide treatment options for symptoms of menopause. This study seeks to investigate the effectiveness of a potential hormone replacement therapy (a new type of vaginal ring that contains 2 types of hormones) in treating symptoms of menopause such as hot flushes and night sweats.
Interested participants must be women who are postmenopausal. Participants must attend 13 visits (in-person and over the phone) for a maximum of 65 days. Compensation will be available for eligible participants.
Why Participate? 
You may experience potential relief from vasomotor symptoms (VMS) such as hot flushes and night sweats.

You may experience improvements to other symptoms of menopause such as vaginal dryness or pain before, during, or after intercourse.

You may learn more about menopause during the study.

You may help others who will experience menopause in the future.

You will be compensated for participating in this study. You will also be reimbursed for reasonable expenses (parking and travel) related to your study visits.

You will help advance women's health research.
Your Rights
If you decide to participate in the study and later feel that you no longer wish to be part of it, you may withdraw at any time.

Your records relating to this study and any other information received will be kept strictly confidential, except as required by the law.

Qualified health professionals will monitor your health as it relates to the study.
Who Can Participate?
Postmenopausal women defined as any one of the following:

Has not had a menstrual cycle in 12 months

Surgically sterile (Had ovaries removed)

Has had an irregular menstrual cycle for at least the past  6 months.
Able to attend 13 visits (in-person and over the phone) at the research site for a maximum of 65 days. Please note the third visit is a 1-night overnight stay at the research site.
Please note:
Due to the current situation with COVID-19 pandemic, the study team would like to point out the following:
The research site does not treat COVID-19 patients and/or suspected COVID-19 patients.

The research site's waiting area is spacious enough that participants will not be within close proximity to each other.

Hand sanitisers are available at the research site.

The research staff adheres to strict hygienic practices as well as other safety measures to prevent the spread of COVID-19. 

Any staff suspected to have COVID-19, or has come into contact with someone who has COVID-19, will automatically undergo a voluntary quarantine for 14 days.

Interested participants will not be left waiting for a long period of time and will be quickly attended to. 

Parking is available at the research site.

The study team encourages the use of personal vehicles, taxi or rideshare services rather than public transit.

All travel expenses will be reimbursed.

The research site/institution is taking all precautionary measures to ensure the safety of the study participants.