Can a Plant-Based Diet Help with Weight Loss? Research Study Seeks Volunteers
Please note: This trial has finished recruiting and is not accepting new participants.
Research Center: Physicians Committee For Responsible Medicine
Location: 5100 Wisconsin Ave. NW, Suite 400, Washington, DC 20016
Lead Doctor: Dr. Neal Barnard
IRB Committee: This study has been reviewed and approved by Advarra Institutional Review Board
Background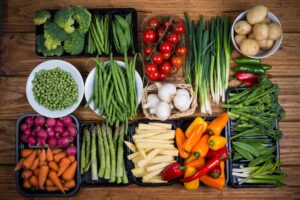 The Physicians Committee is carrying out a research study to find out whether a plant-based diet can help people lose weight, increase their metabolism and improve their overall health.
Participants will be assigned to either a vegan or control group. Participants in the vegan group will be required to follow a low-fat, plant-based diet 16 weeks. Participants in the control group will continue to follow their normal diet. There is an equal chance of being assigned to either group.
This study seeks overweight men and women to participate. Participants in both diet groups are required to attend a screening visit and 2 health assessments at the research site over a 16 weeks and will be compensated $100 for participating in this study. In addition, participants in the vegan group are required to attend weekly nutrition education classes.
Why Participate?
You may experience weight loss and an improvement in your overall health.

If in vegan group, you will receive a weekly nutrition education class. If in the control group, you will have an opportunity to join a nutrition class at the end of the study.

You will undergo two health assessments at no cost to yourself and will have the opportunity to review your results with a physician.

You will be compensated $

100

for participating in this study.

You will be helping to advance medical research. Information learnt from this study may be used to help other people.
Your Rights
If you decide to participate in the study and later feel that you no longer wish to be part of it, you may withdraw at any time.

Your records relating to this study and any other information received will be kept strictly confidential, except as required by the law.
Who Can Participate?
Overweight men and women aged

18+

Do

not

have Type 1 or Type 2 Diabetes

Are

not

vegan

Have Fatty Liver Disease

Able to attend 3 study visits at the research site over approximately 16 weeks