Adolescent Depression + Anxiety on the Rise: A Research Study Utilizing Already FDA-Approved Antidepressant!
Please note: This trial has finished recruiting and is not accepting new participants.
Research Center: University of Cincinnati, Department of Psychiatry & Behavioral Neuroscience
Location: 260 Stetson Street, CIncinnati, OH, 45219 
Lead Doctor: Melissa DelBello, MD
IRB Committee: This study has been reviewed and approved by the University of Cincinnati Institutional Review Board
Background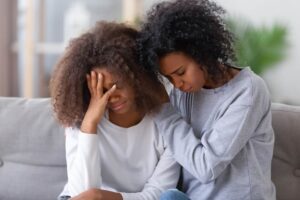 Children of parents with Bipolar Disorder are at a greater risk of developing mental health disorders. Researchers believe this is because of the genetic heritability of the disorder, as well as, environmental factors. In 2014, it was estimated that 2.8 million U.S. adolescents (ages 12 to 17) experienced at least 1 major depressive episode. Many adolescents with depression and/or anxiety don't get the help they need. According to the CDC, only 20% of youth get treatment for their condition. This leaves 80% (about 12 million youth) undertreated or not treated at all. 
The purpose of this research study is to investigate the effects of an already FDA-approved antidepressant and therapy on the brain changes of adolescents who have a family history of Bipolar Disorder and are currently experiencing depressive and/or anxiety symptoms. 
Researchers are seeking adolescents 12 to 17 years old who are experiencing depressive and/or anxiety symptoms and have a first-degree relative (parent or sibling) with Bipolar I Disorder. Parents or legal guardians of interested participants must consent to their participation. Participants will be active in the study for approximately 16 weeks. 
Why Participate? 
Your child may experience improvements to their anxiety and/or depression.

Your child may have quick access to mental health services.

Your child will have a close follow up from a psychiatrist.

Your child will have access to medication and psychotherapy at no cost.

Your child will be compensated up to $830 for their participation.

Your child will be helping to advance medical research.
Your Rights
Research participation is voluntary. If your child decides to participate in the study and later feel that he/she no longer wishes to be part of it, you and your child may withdraw at any time.

Your child's research records relating to this study and any other information received will be kept strictly confidential, except as required by the law.

Qualified health professionals will monitor your child's health as it relates to the study.
Who Can Participate?
Adolescents aged 12-17 who are experiencing symptoms of depression and/or anxiety or who are currently diagnosed.

Must have

at least one first degree relative with Bipolar I Disorder.

Must have parental or legal guardian consent to participate. 

Able to attend study visits at the research site over approximately 16 weeks.
Please note:
Due to the current situation with COVID-19 outbreaks, the study team would like to point out the following:
The research site does not treat COVID-19 patients and/or suspected COVID-19 patients.

The research site's waiting area is spacious enough that participants will not be within close proximity to each other.

Hand sanitizers are available at the research site.

The research staff adheres to strict hygienic practices as well as other safety measures to prevent the spread of COVID-19. 

Any staff suspected to have COVID-19, or has come into contact with someone who has COVID-19, will automatically undergo a voluntary quarantine for 14 days.

Interested participants will not be left waiting for a long period of time and will be quickly attended to. 

Parking is available at the research site.

The study team encourages the use of personal vehicles, taxi or rideshare services rather than public transit.

 

The research site/institution is taking all precautionary measures to ensure the safety of the study participants.