Postmenopausal Suffering from Vulvar Pain? This Hormone-Free Topical Study Treatment May Help
Lead Doctor: Lila Nachtigall, M.D., NCMP
Location: New York City, N.Y. and Rockland County, New York
Background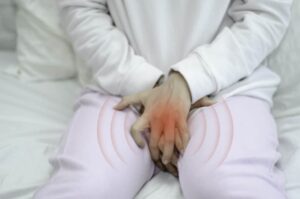 You may be one of the 20 million women in the U.S. who suffer from painful sexual conditions. These conditions are often significant enough to preclude any sexual activity.
This study is evaluating the effectiveness of a topical treatment to treat sexual pain in the area surrounding the vaginal opening also known as the vulvar vestibule. The topical treatment is an FDA approved botanical drug (sinecatechins) made from green tea and has been used for a different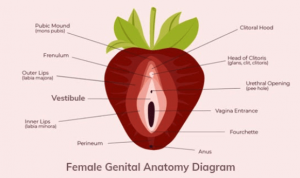 indication for over 14 years by thousands of women. The sexual pain that occurs when the area surrounding the vaginal opening is touched, rubbed or pressed upon is called "provoked vestibulodynia".
Although, this condition is very common in postmenopausal women, it is both underdiagnosed and inadequately treated. Many postmenopausal women commonly continue to experience pain despite the use of estrogens or other hormones. Furthermore, many women prefer not to or can not use hormones.
Researchers are inviting postmenopausal women age 35-70 years old who may be experiencing provoked vestibulodynia pain to apply (see labeled diagram above).
Why Participate? 
You may experience a reduced amount of or potentially no sexual pain

.

You may experience an increase in lubrication and/or sexual arousal.

You will be compensated for participating in this study, up to $200 upon your completion.

You will potentially enable an effective non-hormonal topical treatment for millions of women suffering from sexual pain.

You may participate whether or not you choose to use estrogens or other hormones.

You may be able to reduce their use of estrogens by also using this topical non-hormonal drug.

You will be helping to advance medical research.

The Clinical Trial Coordinator will be readily available for participants throughout the study.
Your Rights
If you decide to participate in the study and later feel that you no longer wish to be part of it, you may withdraw at any time.

Your records relating to this study and any other information received will be kept strictly confidential, except as required by the law.

Qualified health professionals will monitor your health as it relates to the study.
Who Can Participate?
Women aged 35 to 70 years old who are postmenopausal (either naturally or surgically) for at least one year.

Must be interested in engaging in activity that requires contact with the vulvar vestibule.

Must be experiencing vulvar vestibular pain. Vulvar vestibular pain is defined as experiencing pain in the area surrounding the opening of the vagina.

Must be able to attend 3 study visits over a 4 week period at the research gynecologist's office as well as take a follow-up online survey 2 weeks after the study has finished (6 weeks).