A Potential New Treatment for Alzheimer's Disease
Please note: This trial has finished recruiting and is not accepting new participants.
Research Centre: Peninsula Therapeutic and Research Group
Location: 137 Frankston – Flinders Rd, Frankston VIC 3199
Lead Doctor: Dr. Jennifer Grunfeld
Ethics Committee: This study has been reviewed and approved by St Vincent's Hospital Melbourne Human Research Ethics Committee
Background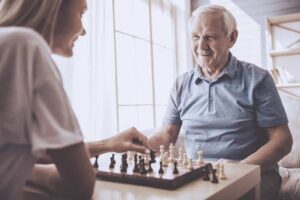 Alzheimer's disease is a type of dementia that affects memory, thinking, behaviour and eventually your ability to perform everyday tasks. At present, there is no cure for Alzheimer's disease, which is the most common type of dementia. Currently available medications only provide temporary improvement in symptoms, but do not modify the course of the disease.
Peninsula Therapeutic and Research Group, based in Frankston, is part of an international clinical study for people with Alzheimer's disease. The trial aims to show that Anaxex2-73, an investigational medication, can stabilise the progression of the disease.
Results from an earlier Australian study suggest that this medication may improve mental activities involved in memory, learning and using general daily knowledge. It is thought that ANAVEX2-73 acts by attaching to and activating specific proteins called "survival receptors" and may protect brain neurons (brain nerve cells) that are usually damaged in Alzheimer's disease.
Participants are required to attend 6 study visits at the research site over a 12-month period.
Why Participate? 
You may experience an improvement in mental activities that are involved in learning, remembering, and using general daily knowledge.

All medication, tests and medical care required as part of the study will be provided to you free of charge.

Two previous human studies showed that ANAVEX2-73 was well tolerated, and there were no serious safety concerns.

You will be reimbursed for any reasonable travel, parking, meals, and other expenses associated with the clinical site visit upon providing details and receipts.

You will be helping to advance medical research relating to Alzheimer's disease.
Your Rights
If you decide to participate in the study and later feel that you no longer wish to be part of it, you may withdraw at any time.

Your records relating to this study and any other information received will be kept strictly confidential, except as required by law.

Qualified health professionals will monitor your health as it relates to the study.
Who Can Participate?
Men and women aged 60-85 who have been diagnosed with mild to moderate Alzheimer's disease.

You will need to have a study partner; this is someone who knows you well (spends at least 10 hours per week with the participant) and is willing to come to the study visits with you. This could be a family member or friend.

Able to attend 6 study visits at the research site for over approximately a year.

Does not regularly use sleep medications.

Does not smoke more than a pack of cigarettes per day.
Please note:
Due to the current situation with COVID-19 pandemic, the study team would like to point out the following:
The research site does not treat COVID-19 patients and/or suspected COVID-19 patients.

The research site's waiting area is spacious enough that participants will not be within close proximity to each other.

Hand sanitisers are available at the research site.

The research staff adheres to strict hygienic practices such as temperature checking, wearing of masks at all times as well as other safety measures to prevent the spread of COVID-19. 

Interested participants will not be left waiting for a long period of time and will be quickly attended to. 

The research site/institution is taking all precautionary measures to ensure the safety of the study participants.