Can High Altitudes Affect our Genetics? Find Out in This Study
Please note: This trial has finished recruiting and is not accepting new participants.
Research Center: Center for Hyperbaric Medicine and Environmental Physiology, Duke University Hospital
Location: 205 Trent Dr, Durham, NC 27710
Lead Doctor: Dr. Richard Moon, M.D.
IRB Committee: This study has been reviewed and approved by Duke University Health System Institutional Review Board
Background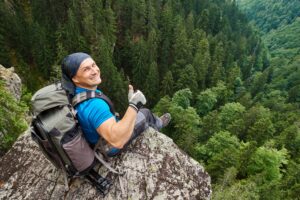 Hypoxia occurs when lesser amounts of oxygen reach our body tissues. It is characterized by cough, rapid breathing, shortness of breath and slow heart rate. This typically happens to individuals, who reach higher altitudes, like hikers who climb mountain peaks.
Researchers are comparing the effects of extended exposure to high altitudes in experienced mountaineers and those that dwell in the lowlands. The aim of this study is to understand how the exposure affects the make-up of our genes. 
This study seeks physically fit men who are non-smokers. Participants are required to have a 6-day stay at the research site and will be compensated generously for participating in the study. Travel, housing and food expenses will also be covered if volunteers traveled to Durham to participate.
Why Participate? 
You may learn about your altitude tolerance.

You may be reimbursed for your expenses related to your participation (travel, lodging, food) if you have traveled to Durham solely for the purpose of this study.

You will be generously reimbursed for your participation in the study

You will be helping to advance research in epigenetics.
Your Rights
If you decide to participate in the study and later feel that you no longer wish to be part of it, you may withdraw at any time.

Your records relating to this study and any other information received will be kept strictly confidential, except as required by law.

Qualified health professionals will monitor your health as it relates to the study.
Who Can Participate?
Experienced mountaineers who have made 3 or more ascents to altitudes exceeding 5000 m (16,400 ft), each ascent 2-3 weeks in the last 5 years.

Males aged 18-40 who are non-smokers.

Physically fit.

Willing to stay at the research site for 6 days, 3 of which you will be in an altitude chamber.

Willing to undergo simple sampling procedures