Do You Have Knee Pain? Join this Knee Osteoarthritis Study
Please note: This trial has finished recruiting and is not accepting new participants.
Research Center: Boston University
Location: 635 Commonwealth Avenue Boston, MA 02215
Lead Researchers: Dr. Deepak Kumar and Dr. Kerry Costello
IRB Committee: This study has been reviewed and approved by Boston University Institutional Review Board
Background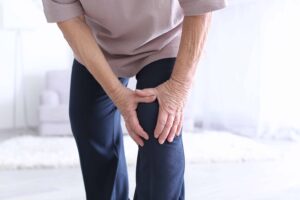 It has been established that people with knee OA have walking patterns that can make the disease worse and have reduced activity levels due to pain. For this reason, this study is exploring the use of mindful walking and self-care techniques to see if these interventions might improve participant's knee condition.
This study seeks women and men who have knee pain. Participants will be randomly assigned (like a coin toss) to either mindful walking or self-care educational program. Participants are required to attend 3 study visits and 11 classes of 2-3 hours each at the research site over a period of 6 months. Participants are also required to wear an activity monitor on their wrist and complete weekly surveys via email for 12 months. Participants will be compensated up to $275 for participating in this study.
Why Participate? 
You may experience an improvement in your knee OA symptoms.

You will be educated about self-care and mindful walking strategies for managing your knee OA.

You will be compensated up to $275 for participating in this study.

You will be helping to advance medical research.
Your Rights
If you decide to participate in the study and later feel that you no longer wish to be part of it, you may withdraw at any time.

Your records relating to this study and any other information received will be kept strictly confidential, except as required by law.

Qualified health professionals will monitor your health as it relates to the study.
Who Can Participate?
Men and women aged 50-80 who have knee pain

.

Able to attend

3

study visits at the research site over a 6 month period.

Must own a smartphone

Must be willing to wear an activity monitor and fill out surveys via email

Able to attend 11 classes for 2-3 hours each for 6 months at or near Boston University.