Research Study For Water Athletes: Preventing Fluid In The Lungs
Please note: This trial has finished recruiting and is not accepting new participants.
Research Center: DukeHealth
Location: Center for Hyperbaric Medicine and Environmental Physiology, Duke University Hospital, Clinic, Room 0584, Basement, White Zone, 205 Trent Dr, Durham, NC
Lead Investigator: Richard Moon, MD
IRB Committee: This study has been reviewed and approved by the Duke University Health System Institutional Review Board
Background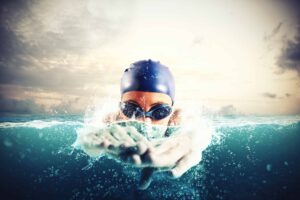 Swimming-induced Pulmonary Edema (SIPE) is a condition caused by excess fluid in the lungs. If you have ever experienced shortness of breath, coughing up pink mucus, and/or crackling feelings deep in the chest associated with breathing, you may have experienced SIPE. It can affect people of all ages in any fitness level, even those who are considered generally healthy and occurs more frequently in adults who subject themselves to heavy exertion during swimming, diving, and similar water sports.
Researchers seek to determine whether Viagra, can help to prevent swimming induced Pulmonary Edema. Additional details can be found here. 
Triathletes, divers and swimmers who have experienced SIPE are invited to participate in this research. Eligible participants must be 18-45 years old who are able to exercise continuously for 40 minutes. Participants will be required to attend 2 study visits that are at least 1 week apart, each requiring 2-3 hours of participation to perform a 40-minute cycle exercise while immersed to the neck in cold water. Generous compensation for completing the study in addition to reimbursement for travel expenses is offered. Details are provided in the prescreen questionnaire.
Why Participate? 
You will be reimbursed for your expenses related to your participation (travel, lodging, food) for each part of the experiment.

You  will be well-compensated for completing the study.

You will help advance research about SIPE and discover potential ways to prevent its onset

You may find that the occurrence of your SIPE is less
Your Rights
If you decide to participate in the study and later feel that you no longer wish to be part of it, you may withdraw at any time.

Your records relating to this study and any other information received will be kept strictly confidential, except as required by law.

Qualified health professionals will monitor your health as it relates to the study.
Who Can Participate?
Men and women aged 18 to 45 who have experienced symptoms of SIPE such as shortness of breath, coughing with pink mucus, and crackling feelings deep in the chest associated with breathing effort during or after a swim or dive

Must be able to attend 2 study visits at the research site at least 1 week apart