A Study For A New Vaccine Against Pneumococcal Disease
Please note: This trial has finished recruiting and is not accepting new participants.
Research Centre: TrialsWest
Location: Suite 46, Level 2, St John of God Medical Clinic, 100 Murdoch Drive, Murdoch, WA
Lead Doctor: Dr. Peter Bremner
Ethics Committee: This study has been reviewed and approved by the Bellberry Human Research Ethics Committee.
This trial is sponsored by a pharmaceutical company.
Background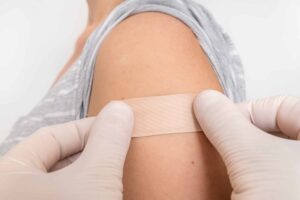 Pneumococcal disease is an infection caused by bacteria called Streptococcus pneumoniae. Each year, this disease causes thousands of infections, such as meningitis, bloodstream infections and pneumonia.
The good news is that pneumococcal vaccines can help prevent this disease.
Researchers seek to investigate the effectiveness of a new potential pneumococcal vaccine, comparing it to an already marketed vaccine. Eligible participants are male and female ages 50 years old and above. Volunteers are required to attend 2 study visits at the research site over approximately 6 months.
Why Participate? 
You will receive an investigational vaccination free of charge

.

Information learned from the study may help other people in the future.

You will be helping to advance medical research.
Your Rights
If you decide to participate in the study and later feel that you no longer wish to be part of it, you may withdraw at any time.

Your records relating to this study and any other information received will be kept strictly confidential, except as required by law.

Qualified health professionals will monitor your health as it relates to the study.
Who Can Participate?
Men and women aged 50 and above

Females can not be pregnant

Able to attend 2 study visits at the research site over approximately  6 months

Has not had a vaccine for pneumococcal disease previously