Are Wind Turbines A Health Hazard?
Please note: This trial has finished recruiting and is not accepting new participants.
Research Centre: The Woolcock Institute of Medical Research
Location: 431 Glebe Point Rd, Glebe NSW 2037, Australia
Lead Investigator: Associate Professor Nathaniel Marshall and Professor Ron Grunstein Ethics Committee: This study has been reviewed and approved by the Sydney Local Health District (SLHD) Ethics Committee at Royal Prince Alfred Hospital (Protocol No X16-0073 & HREC/16/RPAH/91)
Background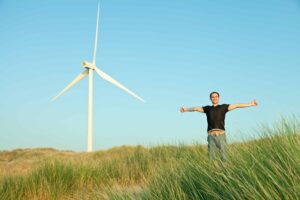 The drive to reduce the use of fossil fuels has shown increasing efforts to shift to renewable energy sources, such as wind power generated by wind turbines. This has led to the construction of multiple wind turbine clusters or "wind farms" in rural areas of Australia.
Recently, wind farms have been opposed by a number of communities who claim that they pose a risk to health. Concerns have largely focused on noise, including non-audible noise, called infrasound, which communities believe is causing a range of negative effects on sleep, balance, and mood. Some people have referred to this as wind turbine syndrome.
This study seeks to measure the effects of inaudible sounds generated by wind turbines on overall human health. Eligible participants are men and women with normal sleep schedules. Participants will attend 4 study visits, which includes 3 overnight visits to the sleep laboratory lasting 4 consecutive days and 3 nights each (i.e. you cannot leave the research site during this time). Interval periods between each visit will be 11 days with opportunities to do work and recreational activities during non-testing hours.
Why Participate? 
You will be compensated $1000 for completing this study and your travel expenses will be reimbursed.

Participants will be provided 3 meals per day and snacks free of charge while in the sleep laboratory.

You will help guide future public policy about the health effects of wind farms and traffic noise.

You will be helping to advance medical research.
Your Rights
If you decide to participate in the study and later feel that you no longer wish to be part of it, you may withdraw at any time.

Your records relating to this study and any other information received will be kept strictly confidential, except as required by law.

Qualified health professionals will monitor your health as it relates to the study.
Who Can Participate?
Men and women aged 18 and above with normal sleep schedules

Able to sleep at least 5.5 hours each night

Able to attend 4 study visits at the research site over approximately 1.5 months, which includes 3 visits to the sleep laboratory lasting 4 consecutive days and 3 consecutive nights each (i.e. you cannot leave the research site during this time) 

Must

not

be hearing impaired

Must work on fixed and regular day time business hours