Researchers In Ohio Seek To Help Older Overweight Adults
Please note: This trial has finished recruiting and is not accepting new participants.
Research Center: Miami University
Location: 420 S Oak St, Oxford, OH 45056, USA
Lead Doctor: Kyle Timmerman, Ph.D.
IRB Committee: This study has been reviewed and approved by The Miami University Institutional Review Board, IRB Approval #01478r
Background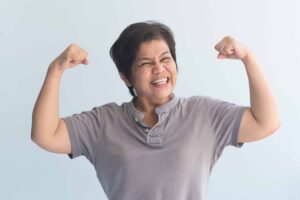 Approximately 30% of older adults in the United States are obese. Many of them are suffering from loss of muscle mass and physical inactivity-related inflammation, which in turn affects the overall ability to perform tasks of daily living and are at high risk for falls and fractures.
Research studies are exploring if a lifestyle change that involves a weight-loss diet and exercise training program, can be considered an option to improve muscle condition and function.
There are 4 different groups participants could be placed in for this study: (1) the exercise group, (2) the diet group, (3) the exercise and diet group or (4) the control group where participants will be asked to follow their normal exercise and diet routine. Please note that those in the control group will be offered supervised exercise training and weight loss counseling at the end of the study.
This study invites adults aged 58 and above, relatively inactive, and overweight. Participants are required to attend at least 6 study visits over an approximately 6 month period. There are different requirements for study visits depending on the group. Those enrolled may be compensated $500 for participating in this study.
Why Participate? 
You may see improvement in your weight and overall health

You may receive weight-loss counseling and an exercise training program

You will receive information related to your health and fitness, including body composition, physical function, cholesterol and glucose profiles.

You may be compensated $500 for participating in this study.

You may be helping to advance medical research.
Your Rights
If you decide to participate in the study and later feel that you no longer wish to be part of it, you may withdraw at any time.

Your records relating to this study and any other information received will be kept strictly confidential, except as required by law.

Qualified health professionals will monitor your health as it relates to the study.
Who Can Participate?
Men and women aged 58+ 

Who are considered above the average weight for their age and height

Do not regularly engage in physical activity/exercise. 

Able to attend at least 6 study visits at the research site over approximately 6 months at Phillips Hall, Oxford Campus, OH. Please note: 

Those participants in the diet group will be asked to attend study visits on a biweekly basis. Those participants in the exercise group will be asked to take part in  an exercise training program for 3 days per week.Those in the diet and exercise group will be asked to take part in an exercise training program for 3 days per week as well as the biweekly visits. Exercise training visits are flexible. The study team can work with each participant to schedule their biweekly study visits, which can occur directly before an exercise training visit.