Researchers Explore Treatment For Pulmonary Fibrosis
Research Centre: Respiratory Clinical Trials Unit, Thoracic Medicine, Royal Adelaide Hospital
Location: Corner of north terrace and west terrace Adelaide SA 5000
Lead Doctor: Prof Mark Holmes
Ethics Committee: This study has been reviewed and approved by Central Adelaide Local Health Network Human Research Ethics Committee
Background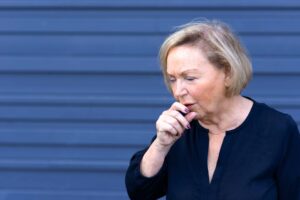 Idiopathic pulmonary fibrosis (IPF) is a type of chronic lung disease characterized by a progressive and irreversible decline in lung function and lung scarring. Symptoms typically include gradual onset of shortness of breath and a dry cough.
Researchers are exploring potential new treatment options to improve the quality of life of those diagnosed with IPF. This research study is being conducted to test the effectiveness of a new treatment medication on maintaining or improving the lung function.
This study seeks men and women who currently suffer from IPF. Participants are required to attend 27 study visits at the research site over a 2 year period and will be reimbursed for reasonable travel expenses for visits to site.
Why Participate? 
You may experience an improvement in your IPF symptoms

You will have access to cutting edge medications that are not available otherwise (in the open label section of the study.

You will be contributing to improving the quality of life for those diagnosed with Idiopathic pulmonary fibrosis.

You will be helping researchers to develop potential treatment options to help manage and cease the progression of Idiopathic Pulmonary Fibrosis. 

You will be helping to advance medical research.
Your Rights
If you decide to participate in the study and later feel that you no longer wish to be part of it, you may withdraw at any time.

Your records relating to this study and any other information received will be kept strictly confidential, except as required by law.

Qualified health professionals will monitor your health as it relates to the study.
Who Can Participate?
Men and women aged 40 years or older who are diagnosed with Idiopathic pulmonary fibrosis

Have been diagnosed with IPF within the past 5 years 

Able to attend 27 study visits at the research site over approximately 2 years