Experiencing Symptoms of Essential Tremor?
Please note: This trial has finished recruiting and is not accepting new participants.
Research Centre: The Royal Melbourne Hospital
Location: 4 East, Neurosciences 300 Grattan Street Royal Melbourne Hospital Parkville VIC 3050
Ethics Committee: This study has been reviewed and approved by The Alfred Hospital Ethics Committee
Background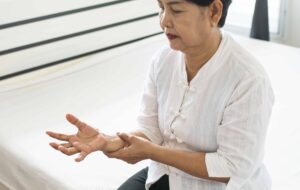 Essential Tremor (ET) is a nerve disorder characterized by uncontrollable shaking, or "tremors," in different parts and sides of the body. A tremor is an involuntary, rhythmic, movement of a body part. While current treatments are available, these medications do not provide patients long lasting results, with about 50% of patients return to experiencing symptoms and tremors.
This study is looking to understand if a new investigational medication can provide a long lasting response and well-tolerated option for those with essential tremor. This research study involves a study drug that is not approved by any regulatory agency, including Australia's Therapeutic Goods Administration, so this research is therefore considered experimental. Information gathered from this study may help others with essential tremor in the future.
This study seeks men and women 18-75 who have been diagnosed with essential tremor for at least 3 years and were diagnosed before the age of 65 Participants are required to attend 7 study visits at the research site over approximately 14-16 weeks. Because the study drug may cause sedation and dizziness, caution must be used in activities requiring mental alertness such as driving a car or operating heavy machinery. This impairment may be made worse by other medications that also cause sedation or reduce alertness.

Why Participate? 
You will be reimbursed actual costs that you incur as a direct result of participating in this study, such as travel, parking, meals, etc.

You will be helping to potentially find a medication that provides longer relief of symptoms for those diagnosed essential tremor.

Please note

You  will receive a maximum of 56 days of the research treatment.

You will not have access to the drug at the end of the study.

You will be helping to advance medical research.
Your Rights
If you decide to participate in the study and later feel that you no longer wish to be part of it, you may withdraw at any time.

Your records relating to this study and any other information received will be kept strictly confidential, except as required by law.

Qualified health professionals will monitor your health as it relates to the study.
Who Can Participate?
Men and women aged 18-75 years old.

Have been diagnosed with essential tremor for at least 3 years.

If you are taking medication(s) for essential tremor, you need to have taken these medications for at least one month before starting the study.

For those taking more than 1 medication for their essential tremor symptoms, you must be willing

and

able to stop taking all but 1 current medication for the duration of the study.

You must be willing to take the study medication as instructed by the research team.

Able to attend 7 study visits at the research site over approximately 14-16 weeks

Please note that 2 of these study visits will require you to stay at the research site for about 6 hours.

In addition to the 7 visits at the research site, this study will involve 2shorter telehealth visits. These are visits which are conducted by phone or video.
Please note:
Due to the current situation with COVID-19 outbreaks, the study team would like to point out the following:
Patients are asked not to participate in research if they have confirmed/suspected COVID-19. The research staff contact all patients prior to appointments to ensure that they do not have symptoms.

The research team adheres to social distancing requirements. As such, you will not be in contact with other participants before, during, or after your appointment.

Hand sanitisers are available at the research site.

The research staff adheres to strict hygienic practices as well as other safety measures to prevent the spread of COVID-19.

Any staff suspected to have COVID-19, or has come into contact with someone who has COVID-19, will automatically undergo a voluntary quarantine for 14 days.

Interested participants will not be left waiting for a long period of time and will be quickly attended to.

Parking is available at the research site.

The study team encourages the use of personal vehicles, taxi or rideshare services rather than public transit. All travel expenses will be reimbursed.

The research site/institution is taking all precautionary measures to ensure the safety of the study participants.