Can A Higher Protein Based Weight Loss Diet Improve Sleep Quality?
Please note: This trial has finished recruiting and is not accepting new participants.
Research Center: Purdue University, West Lafayette Campus
Location: G-93 Stone Hall, 700 W State St, West Lafayette, IN 47907
Lead Doctor: Wayne Campbell, Ph.D.                                            
IRB Committee: This study has been reviewed and approved by Purdue University Institutional Review Board
Background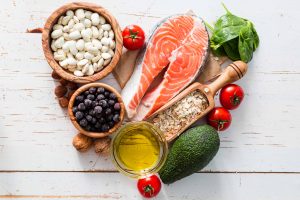 Getting enough and good quality sleep is essential to health. The proportion of people experiencing a sleep problem (e.g. difficulties in initiating or maintaining sleep) several nights per week has increased dramatically (from 51% to 64% in 2001 to 2009). Sleep disruption is often brought upon by obesity as well as medical conditions such as type 2 diabetes, cardiovascular disease, hypertension. All these conditions are also impacted by diet.
This study is exploring the effects of a high versus normal protein weight loss diet effects on sleep quality. Those enrolled will receive a prescribed diet by the study dietitian and asked to follow and consume this diet only for 12 weeks.
This study seeks men and women who are currently overweight but otherwise in good health. Participants are required to attend 4 study visits at the research site over a 3.5 month period and will be compensated up to $500 for participating in this study.
Why Participate?
You may experience weight loss while participating if you are compliant with the study diet (this is not guaranteed).

You will be compensated up to $500 for completing the study.

You will be helping to better understand weight loss options that encourage better sleep quality for those who are overweight.

You will be helping to potentially discover a well-defined, at-home solution for improving sleep quality.

You will be helping to promote a healthy body weight, which could lead to lowering the risk for certain chronic diseases, as well as a reduction of stress in those who are struggling with sleep interruption.
Your Rights
If you decide to participate in the study and later feel that you no longer wish to be part of it, you may withdraw at any time.

Your records relating to this study and any other information received will be kept strictly confidential, except as required by the law.
Who Can Participate?
Men and women aged 30-70 who are overweight or obese

Able to attend 4 study visits at the research site over approximately 3.5 months

Willing to partake in a in a diet program for a period of 12 weeks

Must be non-smokers

Must

not

be lactose intolerant

Must not be diagnosed insomnia or sleep apnea