Researchers Explore the Effects of Binge Eating in Older Women
Research Center: University of Texas Health Science Center at San Antonio
Location: 4939 Charles Katz Dr, San Antonio, TX 78229 –There are aspects of this study that are done virtually
Lead Researcher: Lisa Kilpela, PhD
IRB Committee: This study has been reviewed and approved by the University of Texas Health San Antonio Institutional Review Board
About the Study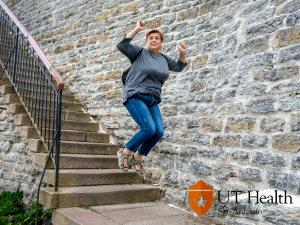 Eating disorders can happen at any age. Research has shown that binge eating affects overall health. However, little research has been done on the effects of binge eating on the health of older adults. Women who binge eat often struggle with not being in control of their eating habits. This may result in feeling embarrassed or depressed. 
Researchers at the University of Texas Health Science Center at San Antonio are conducting a research study to understand how binge eating affects the health and wellness of older women. This study also wants to understand how aging affects the risk for binge eating. This study hopes to develop effective strategies to improve eating habits and promote healthy aging.
Why Participate? 
Participants will receive a body composition scan at no cost. 

Participants will be contributing valuable information that may benefit other women also struggling with binge eating in the future.

Participants will be compensated up to $75 for participating in this study. Compensation will only be provided to eligible participants at the end of the study.

Participants will be helping to develop a treatment for older women suffering from binge eating. 
Your Rights
If you decide to participate in the study and later feel that you no longer wish to be part of it, you can withdraw at any time.

Any information that you provide will be kept strictly confidential, except as required by law.

Qualified health professionals will monitor your health as it relates to the study.
Who Can Participate?
Women aged 60 or older who have been eating an unusually large amount of food in one sitting and felt that their eating was out of control (binge eating) during the past month.

Must be able to attend 1 in-person and 1 virtual study visit over approximately 3 days

Must have access to a phone, computer, or tablet with Wi-Fi for virtual appointments

The in-person visit will last approximately 3 hours
Key Study Details 
Participation includes but is not limited to:
Completing a short physical assessment that includes tests of balance, walking, and strength 

Having their height, weight, blood pressure, and waist measured

Having a DXA scan. A DEXA scan measures the total amount of fat and muscle in a person's body. It lasts about 10 minutes. This procedure involves a small amount of radiation (lesser than the amount of radiation one would get from an x- ray). 

Attend a virtual interview through Zoom

Answer online questionnaires
If anything you have read here makes you feel uncomfortable, please talk to a trusted confidant or provider about what you are feeling and experiencing.
About the Research Center:

University of Texas Health Science Center at San Antonio
As a comprehensive health science university, the mission of The University of Texas Health Science Center at San Antonio is to educate health science professionals, discover and translate advances in the biomedical and social sciences, and model the best practices in clinical care and public health. They pursue this mission in order to advance the quality of human life by enhancing the diagnosis, treatment, and prevention of disease and injury, as well as promoting individual health and community well-being.
Please note:
Due to the current situation with the COVID-19 pandemic, the researchers would like to assure the participants that ensuring the safety of the participants as well as the study staff is of utmost importance.