Have You Felt Depressed After A Concussion? New Study Using Magnetic Therapy May Be Able to Help
Please note: This trial has finished recruiting and is not accepting new participants.
Research Center: Johns Hopkins University School of Medicine
Location: 5300 Alpha Commons Dr. 4th Floor, Room 425 Baltimore , MD 21205 (shown on map)
Lead Researchers: Vani Rao MBBS, M.D and Alex Vassila
Ethics Committee: Reviewed and approved by The Johns Hopkins Medicine IRB
Background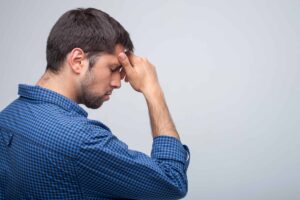 Over the past few years, it's become widely known among medical practitioners that traumatic brain injuries, or concussions as they're more often called, can result in emotional disturbances and other symptoms including clinical depression.
This study seeks to to test how magnetic stimulation works for the treatment of symptoms of depression associated with traumatic brain injury.
Benefits to Participation
You will receive a comprehensive psychiatric evaluation at no charge.
Qualified health professionals will monitor your health.
You will be helping to advance medical research.
You will be compensated $1,400.00 for your time after completion of the study plus an additional $100.00 if you participate in a brain scan.
In addition, you will be paid $200.00 if you choose to participate in the initial sleep study and $200.00 for the sleep study at the end of treatment.
Your Rights
If you decide to participate in the study and later feel that you no longer wish to be part of it, you may withdraw at any time.
Your participation and health records relating to this study and any other information received will be kept strictly confidential.
Upon completion of the study, results will be shared with you upon request.
Who Can Participate?
Males and Females aged 18+
Have had a concussion that occurred 3 months or longer ago
Have felt depressed after your head injury.
Are willing to consult your doctor about discontinuing any mood stabilizing medications that have not helped you during the study period.
Are able to attend Johns Hopkins University School of Medicine (at Orleans Street and Bayview) on multiple occasions for 4 weeks of treatment (20 visits x 30 min each) plus 4 monthly follow-up visits.
Active duty military will not be compensated, but may still participate.
Save