Sleep Survey Study Seeks Those Who Have Experienced Traumatic Events
Research Center: Henry Ford Health System – Sleep Research Center
Location: This is an online survey study
Lead Doctor: Christopher L. Drake, Ph.D.
IRB Committee: This study has been reviewed and approved by the Henry Ford Health System Institutional Review Board
Background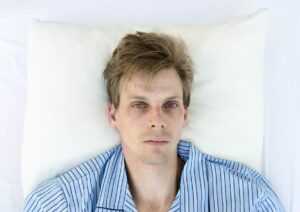 According to the National Sleep Foundation, a traumatic event can cause stress that may lead to sleep problems. When the body is under constant stress, it releases chemicals that keep us awake. This makes it hard for us to relax at the end of a stressful day and cause barriers to the normal sleep cycle. This sleep disturbance can cause insomnia, bad dreams, and daytime fatigue.
Researchers want to understand how trauma may contribute to sleep disturbance. This research study is looking into the impacts of trauma (physical and sexual abuse) and the Coronavirus (COVID-19) pandemic on the elements of sleep disturbance, stress-related sleep reactivity and insomnia disorder.
This study is looking for adults aged 18 years old or older who have experienced trauma in their life. Participants are asked to complete a one-time online 30 minute survey. Eligible participants will be compensated
Why Participate? 
You may contribute valuable information that may help others with sleep disorders in the future.

You will be compensated for participating in this study.

You will be helping to advance research on sleep and sleep related disorders.
Your Rights
If you decide to participate in the study and later feel that you no longer wish to be part of it, you may withdraw at any time.

Your records relating to this study and any other information received will be kept strictly confidential, except as required by law.

Qualified health professionals will monitor your health as it relates to the study.
Who Can Participate?
Men and women aged 18 years old or older who have experienced either physical or sexual abuse (trauma) in their life

Must be able to complete a one-time online survey that will take approximately 30 minutes 
Please note:
Due to the current situation with the COVID-19 pandemic, the study team would like to note the following:
You can participate in the comfort of your own home. 

There will be no in-person visits or clinic appointments in this study.

In this study, there is no need to have close interactions with any person.