Herbal Medicine for a Happy Tummy: A Research Study for Healthy Adults
Research Centre: University of Adelaide
Location: Clinical Research Facility, Adelaide Health and Medical Sciences Building, University of Adelaide, Corner George Street and North Tce, Adelaide SA 5005
Lead Researchers: Prof. Christine Feinle-Bisset
HREC: This study has been reviewed and approved by the Human Research Ethics Committee of the Central Adelaide Local Health Network
About the Study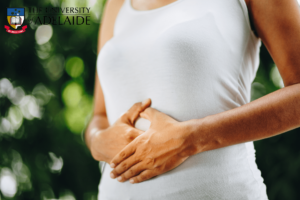 Generally healthy? Researchers from the University of Adelaide are inviting healthy adults to join this study. 
Herbal preparations have been used for centuries for the treatment of gut symptoms. This study explores how this herbal preparation may relieve gastrointestinal discomfort in some people. To test this preparation, researchers need healthy individuals. 
Globally, about 5-20% of adults are affected by upper stomach problems. For those who suffer from stomach problems, this herbal preparation may be able to provide relief, resulting in greater enjoyment and productivity in everyday life.
Interested to join this study? See if you qualify!
Why Participate? 
Participants will be contributing valuable information that may benefit others who suffer from digestive problems.

Participants will be helping to advance research.

Participants will be compensated up to $120 for participating in this study.
Your Rights
If you decide to participate in the study and later feel that you no longer wish to be part of it, you can withdraw at any time.

Any information that you provide will be kept strictly confidential, except as required by law.

Qualified health professionals will monitor your health as it relates to the study.
Who Can Participate?
Men and women aged 40-60 years old 

Must be generally healthy 

Must not be taking antidepressant/anxiety medication, or medications that result in a change of appetite/digestion

Must not have changed weight drastically over the last 3 months

Must not be an athlete 

Must not have an allergy or intolerance to any food (e.g. lactose intolerance) or medication

Must not regularly (e.g. daily) use

any tobacco or nicotine products (i.e. e-cigarettes, cigars, pipes, vaping)

Must not consume more than 2 standard alcoholic drinks per day for more than 5 days of the week

Must not use any recreational drug (e.g. marijuana) or illicit substance

Must be willing to consume a beef lasagne or tuna mornay meal, and beef pattie, on two occasions

Must be able to attend 2 study visits at the research site over approximately 4 weeks
Key Study Details 
The study team will explain the research study in its entirety but some study details are:
Participants will need to refrain from exercise and alcohol for 24 hrs before each visit.

Participants will be asked to eat their "take-home" meal (McCains beef lasagne or tuna mornay) in the evening prior to their study visit at 7 pm.

Participants will be asked to fast overnight after eating their "take-home" meal. They can drink only water until 7 am the morning of their visit.

Participants will be given 20 drops of either the herbal liquid or placebo (which does not contain the active ingredients), with 50 ml of water,  immediately followed by a minced beef burger and a sugar drink which they will be required to consume within ~ 5 min.
About the Research Centre:

The University of Adelaide is one of Australia's most research-intensive institutions. With world-leading researchers and modern facilities, researchers are committed to delivering research that is highly valued by local and global communities.
Please note:
Due to the COVID-19 pandemic, the researchers would like to assure the participants that ensuring their and the study staff's safety is of utmost importance. Please be advised:
The research site does not treat COVID-19 patients and/or suspected COVID-19 patients.

The research site's waiting area is spacious enough that participants will not be within close proximity of each other.

Hand sanitiser is available at the research site.

The research staff adheres to strict hygienic practices as well as other safety measures to prevent the spread of COVID-19. 

Any staff suspected to have COVID-19, or who have come into contact with someone who has COVID-19, will follow current SA Health and University directives.

Parking is available close to the research site.