Struggling With Symptoms of Menopause? Learn More About Your Potential Options Today!
About the Study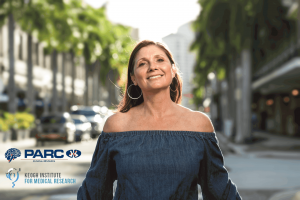 Are you struggling with post-menopausal symptoms? A woman who has stopped menstruating after a year is considered to be in the post-menopause stage. Women who experience post-menopause symptoms can think it to be debilitating and challenging. A common symptom women experience is vulvar and vaginal atrophy (VVA) which includes, but is not limited to vaginal dryness, itching, burning, and painful sexual activity 
Researchers are continually finding ways that may help post-menopausal women manage their symptoms. The Keogh Institute for Medical Research and PARC Clinical Research are doing a research study that explores a different way to treat vaginal dryness and pain. This potential treatment is non-hormonal and may potentially assist in the management of VVA symptoms.
Why Participate? 
Participants may receive a new potential non-hormonal treatment for vaginal dryness and pain at no cost.

Participants may better manage and may experience improvements to their VVA symptoms. 

Participants will be contributing valuable information that may benefit other women in the future.

Participants will be helping to advance women's health research.
Your Rights
If you decide to participate in the study and later feel that you no longer wish to be part of it, you can withdraw at any time.

Any information that you provide will be kept strictly confidential, except as required by law.

Qualified health professionals will monitor your health as it relates to the study.
Who Can Participate?
Women aged 40-75 years old who are post-menopausal. This means it has been a year since the interested individual's last menstruation.

Must be experiencing symptoms of Vulvar and Vaginal Atrophy (VVA). Some symptoms include but are not limited to:

Vaginal dryness

Vaginal and/or vulvar irritation/itching

Pain or discomfort when you urinate

Vaginal pain with sexual activity

Vaginal bleeding associated with sexual activity 

Must be sexually active in the past month

Must not have undergone hysterectomy and endometrial ablation

Must not have had previous vaginal hormone therapy for Vulvar and Vaginal Atrophy (VVA)

Must be able to attend 12 study visits at the research site for over 10 weeks
Key Study Details 
The study team can explain the research study in its entirety but some study details are:
This potential non-hormonal study treatment will be placed in the vagina by the interested study participant once daily for 2 weeks and then twice a week for 6 weeks. The study treatment should be inserted in the morning.

Participation in this study involves blood samples to be taken.

Participants may be asked to come for a follow-up visit after they have completed the study.
This research study is taking place in several locations. The research centre details are below so that you can see if there is a research site near you. 
Research Centre: Keogh Institute for Medical Research
Location: 1st Floor C Block, QEII Medical Centre, Hospital Avenue, Nedlands. WA 6009, Australia
Lead Researcher: Professor Bronwyn Stuckey
HREC: This study has been reviewed and approved by the Bellberry Human Research Ethics Committee
About the Research Centre:

The Keogh Institute for Medical Research is a research and clinical organisation dedicated to endocrine (hormonal) disorders and their impact on reproductive and sexual health. We provide clinical treatment and research opportunities for a wide range of conditions including sexual dysfunction, infertility, menopause and diabetes.
Research Centre: PARC Clinical Research
Location: Level 4G.1 East, Royal Adelaide Hospital, Port Road, Adelaide, South Australia, Australia 5000
Lead Researcher: Associate Professor Louise Hull
HREC: This study has been reviewed and approved by the Central Adelaide Local Health Network Human Research Ethics Committee
About the Research Centre:

PARC is a University of Adelaide based research group conducting specialised research into multiple disciplines. The purpose of the Unit is not only to undertake contract clinical research for the pharmaceutical and biotech industries, but also to provide a safe and suitable environment for the conduct of academic clinical  studies. PARC is managed by a team of highly trained and experienced staff, with a broad range of expertise, experience and qualifications, including medical personnel, registered nurses, science/bio-science graduates and PhD candidates and recipients. 
Please note:
Due to the current situation with the COVID-19 pandemic, the researchers would like to assure the participants that ensuring the safety of the participants as well as the study staff is of utmost importance.