Research Study Opportunities for Children With Autism in New York
Research Center: JelikaLite LLC
Locations: 
     1. 1720 East 14th Street, Brooklyn NY 11229
    2. 315 West 57th Street, Suite 401, New York, NY 10006
Lead Researchers: Dr. Yuli Fradkin; Dr. Eugenia Steingold
IRB Committee: This study has been reviewed and approved by the WCG Institutional Review Board
About the Study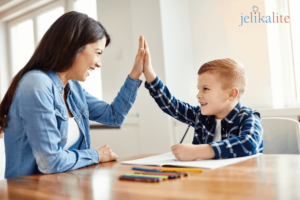 According to the Centers for Disease Control and Prevention (CDC), 1 in 54 U.S. children is diagnosed with an Autism Spectrum Disorder (ASD). Early detection and intervention may lead to healthier development and a better quality of life for kids with Autism. Researchers are currently exploring ways to improve assistance to children with Autism, so they need to live an independent and productive life.
This research study seeks to learn the effectiveness of a new potential therapy for children with Autism Spectrum Disorder (ASD). This potential therapy uses a technology called Brain LED Therapy (photobiomodulation). Researchers hope that this potential therapy may enable children to better fit into society by providing potential intervention without harmful side effects. 
Why Participate? 
Participants will receive this new potential Autism treatment at no cost.

Participants may experience improvements to their Autism symptoms. 

Participants will be contributing valuable information that may benefit other children with Autism in the future.

Participants will be helping to advance autism-treatment research.

Participants may receive the following at no cost: 

Consultation with a psychologist about their symptoms, conditions and progress

The final EEG map of the their brain

The initial and the final results of their Childhood Autism Rating Scales
Your Rights
If you decide to participate your child in the study and later feel that you no longer wish your child to be part of it, you can withdraw your child in this study at any time.

Any information that you provide about you or your child will be kept strictly confidential, except as required by law.

Qualified health professionals will monitor your child's health as it relates to the study.
Who Can Participate?
Children aged 2-6 years old who are diagnosed with Autism Spectrum Disorder (ASD) by a licensed physician

This study involves parental and/or legal guardian consent

and

participation 

Must not have any significant skin conditions on the head such as (but not limited to): psoriasis, eczema, rashes, and open wounds

Must not

have any severe self-injurious behavior or severe aggressive behavior to their self or to others

Must not be taking any prescription medication 

Must be able to attend 18 study visits at the research site over approximately 8 weeks. 

The study visits will happen two times a week and each visit will take about 30 minutes to complete.

The study team will check in with the parents on a weekly basis regarding their observations about their child's behavior either by phone or in person.
Key Study Details 
Participation in this research study will include but is not limited to:
The child wearing a Smart EEG headband (such as Brainbit).This is a painless procedure to measure brain activity

The child wearing a headband with some LED lights inside 

The parent keeping a daily diary which would record the number of words their child says, his or her understanding of instructions, sleep time, number of tantrums, social interaction and eating

The parent answering questionnaires about their child

 
About the Locations:
These are private professional offices, with a waiting room and a receptionist. There are several private rooms within these offices. The child will be led to a private room, which will have toys and books inside it. The caregiver and one of the researchers will be present in the room at all times. 
Please note:
Due to the current situation with the COVID-19 pandemic, the researchers would like to assure the parents and their children that ensuring the safety of their as well as the study staff is of utmost importance.