Are You Diabetic? New Treatment May Reduce Cholesterol And Lower Your Risk Of Developing Heart Disease
Please note: This trial has finished recruiting and is not accepting new participants.
Research Center: Iowa Diabetes and Endocrinology Research Center
Location: 411 Laurel St #3262, Des Moines, IA
Lead Researcher: Anuj Bhargava, MD
Ethics Committee: Reviewed and approved by the Mercy Medical Center Des Moines Institutional Review Board
Background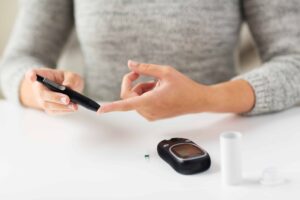 Diabetics are at increased risk of developing heart disease due to high levels of cholesterol. For some diabetics, cholesterol lowering medication has little effect.
The purpose of this study is to determine how effective the study medication is at lowering cholesterol levels in diabetics when taken in addition to the cholesterol lowering medication, unless intolerant to statins. The study medication has already been approved for the treatment of high cholesterol in people with other medical conditions.
This research study seeks men and women aged 18+ who are diabetic, take insulin and have high cholesterol (even if they are taking cholesterol lowering medication).  Participants are required to attend 6 study visits at the research site over approximately 9 months  and will be compensated up to $240 for participating in this study.
Benefits to Participation
You may see improvements in your cholesterol.

You will be compensated up to $240 for partaking in this study.

Qualified health professionals will monitor your health.

You will be helping to advance medical research.
Your Rights
If you decide to participate in the study and later feel that you no longer wish to be part of it, you may withdraw at any time.

Your records relating to this study and any other information received will be kept strictly confidential.

Upon completion the results of the study may be shared with you.
Who Can Participate?
Men and women who are 18+ years of age and have Type 1 or 2 diabetes

Taking insulin

Have high cholesterol

If

able

to, already taking cholesterol lowering medication  

Willing to attend 6 study visits at the research site over approximately 9 months