Join This Study To Help Develop A More Convenient Way Of Doing Blood Tests Using Just A Finger Prick
Please note: This trial has finished recruiting and is not accepting new participants.
Research Centre: MyHealthTest Laboratory
Location: Canberra, ACT
Lead Investigator: Belinda Whittle
Background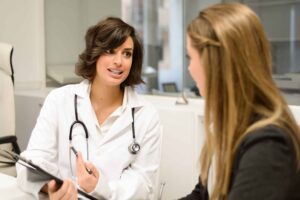 Pathology tests are used to identify and understand disease. Blood, urine and saliva samples are often used in these tests.
This study is investigating whether dried spot blood samples collected from finger pricks are as accurate as traditional blood samples (where blood is drawn from a vein) for pathology testing.
To test for certain health markers, this study seeks participants who have thyroid disease or prostate disease (including prostatitis, benign prostatic hyperplasia (BPH) and prostate cancer). In addition, men over the age of 70 are invited to participate. Participants must be willing to attend a short appointment at the MyHealthTest laboratory on the 21st of June 2016.
Benefits to Participation
If your consent is given your blood test results will be sent to your nominated doctor.

You will be provided with a voucher for a free HbA1c test from MyHealthTest. This test measures the long term glucose in your blood and the results will indicate whether you have or are at risk of developing diabetes.

You will be helping to advance medical research.
Your Rights
If you decide to participate in the study and later feel that you no longer wish to be part of it, you may withdraw at any time, 

until the results are analysed for publication.

Your records relating to this study and any other information received will be de-identified, and will be kept strictly confidential, as far as allowed by law.
Who Can Participate?
Men and women aged 18+ who:
Have thyroid disease or prostate disease

In addition, men over the age of 70 are encouraged to participate

Able to attend a study visit at the MyHealthTest laboratory on the 

21st of June 2016.

Willing to have blood drawn
Who Will The Study Involve?
Have blood drawn from an arm vein, and from a finger prick.

Answer a short health questionnaire.
The ethical aspects of this study have been approved by the ANU Human Research Ethics Committee (protocol 2013/329)