Help Flatten the Curve: Join a Research Study for Adults With COVID-19
Research Center: University of Massachusetts Medical School
Location: 55 N Lake Ave, Worcester, MA 01655, United States
Lead Researcher: Robert Finberg, MD
IRB Committee: This study has been reviewed and approved by the Advarra Institutional Review Board
About the Study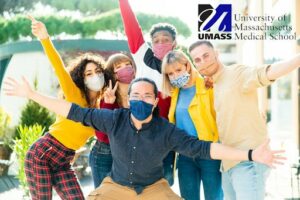 Tested positive for COVID-19 and looking for ways to treat your symptoms? According to the World Health Organization, COVID-19 continues to spread with few treatment options. It can quickly spread through contact with other people who have tested positive for the virus. For elderly adults and adults with health problems, COVID-19 may result in serious complications that may cause hospitalization. 
This research study aims to investigate a potential treatment for mild to moderate COVID-19 symptoms. This treatment has been approved in Japan and China to treat influenza and has also been approved in India and Russia to treat COVID-19. The results of this study may not only prevent and treat COVID-19, but may also help society by expanding the understanding of similar conditions and prevention.
Why Participate? 
Participants will receive a new potential treatment for COVID-19 at no cost.

Participants may experience improvements to their COVID-19 symptoms. 

Participants will be contributing valuable information that may benefit those with COVID-19 in the future.

Participants will be compensated up to $100 for participating in this study. Compensation will only be provided to eligible participants who complete the study.

Participants will be contributing to a cause that will help people all over the world. 
Your Rights
If you decide to participate in the study and later feel that you no longer wish to be part of it, you can withdraw at any time.

Any information that you provide will be kept strictly confidential, except as required by law.

Qualified health professionals will monitor your health as it relates to the study.
Who Can Participate?
Men and women aged 18 and above who have tested positive for COVID-19

within the last 3 days

Must be experiencing COVID-19 symptoms such as:

stuffy or runny nose

sore throat

shortness of breath

cough

low energy or tiredness

muscle or body aches

headache

chills or shivering

feeling feverish or having fever (temperature reading of 37.2°C or higher)

nausea

diarrhea

vomiting

changes in the sense of taste or smell

Must have access to a smartphone

Must

not

be hospitalized or require hospitalization

Must be able to attend 2 in-person study visits at the research site and 7 telehealth (virtual) visits over approximately 28 days

Participants will be asked to attend 7 telehealth visits through phone calls that occur every other day for the first 10 days and on days 14, 21, and 28.
Key Study Details 
The study team can explain the research study in its entirety but some study details are:
Participants will be asked to take an oral tablet for 10 days. 

Participants will be asked to complete daily diary entries to record their temperature, how they are feeling, and how often they take their medications for 10 days.

Participants will also be asked to record their oxygen saturation (amount of oxygen in their blood) once a day and at bedtime and document this in the study diary.

Participants will be asked to provide saliva samples in plastic collection tubes daily. 

Participants will be asked to have their blood drawn.
About the Research Center:

University of Massachusetts Medical School
The University of Massachusetts is a world-class public research university committed to advancing knowledge and transforming lives. Through its world-class educational programs, groundbreaking research enterprise, and its impactful community service and industry engagement activities, UMass harnesses the revolutionary spirit of Massachusetts to deliver an unparalleled student experience.
Please note:
Due to the current situation with the COVID-19 pandemic, the researchers would like to assure the participants that ensuring the safety of the participants as well as the study staff is of utmost importance.