New Ultra-Low Dose Blood Pressure Pill Could Mean Significant Hypertension (High Blood Pressure) Relief
Please note: This trial has finished recruiting and is not accepting new participants.
Research Centre: The George Institute for Global Health and The University of Sydney
Research Location: Westmead, NSW and surrounds
Lead Doctors: A/Prof Clara Chow
Ethics Committee: Reviewed and approved by the University of Sydney Human Research Ethics Committee
Study Funding: Heart Foundation of Australia
Background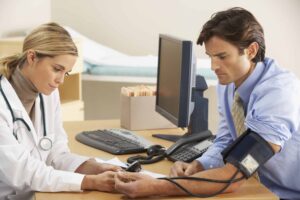 Did you know that high blood pressure (hypertension) is a major risk factor for heart attack and stroke? Did you know that Hypertension is easily treated?
The George Institute for Global health and the University of Sydney is investigating a simplified treatment strategy with a blood pressure combination pill, which includes 4 common TGA/ FDA approved blood pressure lowering  medications. A ¼ dose (ultra low dose) of each medication is combined into a single capsule.
Available data suggests that low dose combinations are effective at lowering blood pressure and have fewer side effects.
As a participant in this trial, you will be helping with the evaluation of the ultra low dose combination medication which may benefit your hypertension (high blood pressure).
Benefits to Participation
You may experience a reduction in your high blood pressure (hypertension).
You will be helping to further knowledge in treatment of hypertension.
You will undergo specialised tests, e.g.: 24 hr ambulatory blood pressure monitoring.
You will be provided medical advice on developing and maintaining healthy lifestyle choices
You will be provided all study related assessments and medications free of charge
Your Rights
Your records relating to this study and any other information received will be kept strictly confidential.
During the study any test results will be shared with you and/or your general practitioner.
Qualified medical professionals will supervise your participation.
Participation is completely voluntary and you will be able to withdraw from the study at any time.
Who Can Participate?
Adults aged 18 years and over who have hypertension, confirmed by a medical professional
Who are currently not taking any medication for hypertension