Eczema Treatment Research Study Seeks Interested Participants
Please note: This trial has finished recruiting and is not accepting new participants.
Research Center: The Indiana Clinical Trials Center
Location: 824 Edwards Dr. Suite 172, Plainfield, IN 46168, United States
Lead Researcher: Scott T. Guenthner, MD
IRB Committee: This study has been reviewed and approved by the Copernicus Group Independent Review Board (CGIRB) and Western Institutional Review Board® (WIRB®) 
About the Study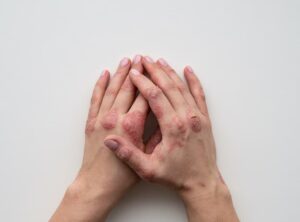 Atopic dermatitis, which is sometimes called eczema, is a skin disease that causes inflammation. It also causes itching, leading to redness, oozing, dryness, and thickening of the skin. This condition currently has no oral medication to help manage symptoms. If an oral treatment were to be developed, it would be an excellent alternative for those who find topical therapies ineffective and are unable or unwilling to use an injectable medication.  
Researchers are continually developing treatment and therapy options that may help manage atopic dermatitis. This research study seeks to determine the effectiveness of a potential treatment to treat atopic dermatitis (eczema). This potential treatment acts by turning off the switch for the immune system's cells (the body's defense against infection and inflammation). By turning off this switch, the immune system cells are expected to produce fewer chemicals believed to cause AD.
Why Participate? 
Participants may receive a new potential treatment that may help manage eczema symptoms.

Participants may experience improvements to their condition.  

Participants may contribute valuable information that may benefit others with the same condition in the future. 

Participants may be reimbursed up to $75 per study visit for participating in this study. This will be provided to them after they have completed the study visit. Participants who meet the eligibility and complete the study criteria will receive up to $825 for their participation in this study.

Participants will be helping to advance skin disorder-related research.
Your Rights
If you decide to participate in the study and later feel that you no longer wish to be part of it, you can withdraw at any time.

Any information that you provide will be kept strictly confidential, except as required by law.

Qualified health professionals will monitor your health as it relates to the study.
Who Can Participate?
Adults aged 18 years old or older diagnosed with chronic moderate to severe atopic dermatitis (eczema).

Must be experiencing inadequate response to their current atopic dermatitis treatment.

Must be able to attend 9 study visits at the research site and answer 2 telephone calls for approximately 5 months. 

Must be willing to take the study medication orally once daily as instructed by the study team for 12 weeks.
Key Study Details 
This will be different from the regular medical care people with atopic dermatitis receive. The purpose of regular medical care is to improve or otherwise manage health. Still, the purpose of this research is to gather information to advance science and medicine. This research study should not replace regular medical care.

Participation in this research study may involve collecting blood and urine samples and skin biopsies. The skin biopsies will be collected through a method called punch biopsy, where small pieces of skin are removed. This can be further elaborated on by the study team.

Participation will involve answering questionnaires. 
About the Research Center:

The Indiana Clinical Trials Center 
The Indiana Clinical Trials Center has a highly experienced, motivated, and caring staff. By fostering a team approach, Dr. Guenthner has assembled a group of individuals willing to "go the extra mile" for the patients to ensure that our practice philosophy is met. For patients, it is vital that they feel welcomed, comfortable, and most of all, respected by the practice. Every patient will be viewed as an individual who deserves and will receive the best dermatologic care possible.
Please note:
Due to the current situation with the COVID-19 pandemic, the researchers would like to assure the participants that ensuring the safety of the participants as well as the study staff is of utmost importance.