Notalgia Paresthetica Researchers Invites Adults With Chronic Back Itching
Research Center: The Indiana Clinical Trials Center
Location: 824 Edwards Dr Suite 172, Plainfield, IN 46168, United States
Lead Researcher: Scott T. Guenthner, MD
IRB Committee: This study has been reviewed and approved by the Advarra Institutional Review Board
About the Study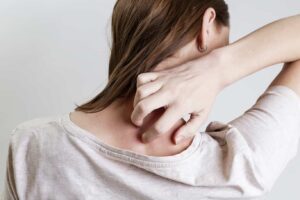 Notalgia paresthetica (NP) is nerve damage or dysfunction of the upper back, commonly between the shoulder blades. A person who has NP usually has an unpleasant sensation of the skin that produces the urge to scratch (i.e., chronic pruritus). They may also experience other sensations- like tingling, pricking, chilling, burning, numbness (paresthesia), thickening (hyperkeratosis), and dryness (xerosis) of the skin. In NP, lichenification can also happen, wherein the skin becomes thick and leathery. These symptoms usually occur on one side of the upper back but can spread to nearby areas. The exact cause of this condition is still not known. The management of NP, which includes antihistamines and topical corticosteroids, presents multiple challenges. The most important being therapeutic resistance since it does not address the actual cause of the disease. 
Researchers are seeking ways to develop new treatment options for the clinical management of NP. This study is looking into the effectiveness of a potential treatment that may help manage chronic itching (pruritus) among adults with notalgia paresthetica (NP). Researchers hope to improve the quality of life and work productivity of those with this condition.
Interested participants must be 18-80 years old and must have active notalgia paresthetica (NP). Participants must be willing to comply with the study requirements. Reimbursement for time and travel may be provided to eligible individuals after each visit for their participation in this study.
Why Participate? 
You may receive a new potential treatment that may help manage chronic itching due to notalgia paresthetica (NP).

You may or may not experience improvements to your condition.  

You may contribute valuable information that may benefit others with the same condition in the future. 

You may benefit from the medical monitoring (for example, physical examination, laboratory tests) that is part of the study.

You may be reimbursed for time and travel while participating in this study. This will be provided to you after you have completed the study visit.

You will be helping to advance medical research.
Your Rights
If you decide to participate in the study and later feel that you no longer wish to be part of it, you may withdraw at any time.

Your records relating to this study and any other information received will be kept strictly confidential, except as required by law.

Qualified health professionals will monitor your health as it relates to the study.
Who Can Participate?
Adults currently experiencing symptoms of notalgia paresthetica (NP). This means that those experiencing any unpleasant sensations of the skin that produces the urge to scratch, have darkening, thickening, dryness, rubbery or leathery texture of the skin in the middle to upper back area may be eligible to join this study. 

Participants must be aged 18 to 80 years old. 

Participants must be able to attend 9 study visits at the research site over approximately 19 weeks.

Participants must be willing to take the study pill twice a day for 12 weeks. They must take the study medication for 12 weeks. It will be taken  by the participants every 12 hours on an empty stomach (which means the medication should be taken 2 hours before a meal ). 
About the Research Center:
The Indiana Clinical Trials Center
The Indiana Clinical Trials Center has a highly experienced, motivated, and caring staff. By fostering a team approach, Dr. Guenthner has assembled a group of individuals who are willing to "go the extra mile" for the patients to ensure that our practice philosophy is met. For patients, it is vital that they feel welcomed, comfortable, and most of all, respected by the practice. Every patient will be viewed as an individual who deserves and will receive the best dermatologic care possible.
Please note:
Due to the current situation with the COVID-19 pandemic, the researchers would like to assure the participants that ensuring the safety of the participants as well as the study staff is of utmost importance.