Parkinson's Disease Research Study Seeks Participants
Research Center: MD Clinical
Location: 911 East Hallandale Beach Blvd, Hallandale Beach, FL 33009 USA
Lead Researcher: Beth E. Safirstein, M.D.
IRB Committee: This study has been reviewed and approved by the Advarra Institutional Review Board
Background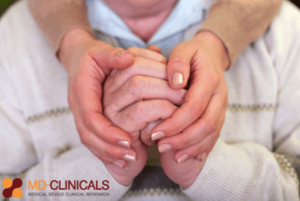 According to the National Institute of Age, Parkinson's disease is a brain condition that causes shaking, stiffness, and difficulty with walking, balance, and coordination. The symptoms usually begin gradually and get worse over time. People with Parkinson's may also have challenges to their mental health such as  sleeping problems, depression, memory challenges, and fatigue.
Researchers are working to develop potential options that may help those suffering from Parkinson's. This study seeks to understand the effectiveness of a potential treatment for Parkinson's disease. The investigational medication will be administered to eligible participants via intravenous (IV) infusions through a needle in their vein.
Interested participants must be aged 40 to 85 years old who have Parkinson's disease. Participants must be willing to comply with the necessary study requirements. Compensation will be available for eligible participants.
Why Participate? 
You may experience improvements in managing the symptoms of Parkinson's disease.

You may receive a new potential treatment for Parkinson's disease.

You will be compensated up to $5,475 for participating in this study.

If the study doctor requires an overnight visit, you will also receive $500 per night in compensation. 

If expenses are incurred during traveling to and from the study visits, like parking or tolls, you will be reimbursed up to $50 per visit.

If caregivers incur expenses while traveling to and from the study visit, like parking or tolls, caregivers will be reimbursed up to $50 per visit.

You will contribute valuable information that may benefit others in the future.

You will be helping to advance medical research.
Your Rights
If you decide to participate in the study and later feel that you no longer wish to be part of it, you may withdraw at any time.

Your records relating to this study and any other information received will be kept strictly confidential, except as required by law.

Qualified health professionals will monitor your health as it relates to the study.
Who Can Participate?
Adults aged 40 to 85 years old who have a diagnosis of Parkinson's disease. 

Participants must be experiencing mild to moderate symptoms.

Participants must have a BMI of 18 to 34 kg/m2. 

Participants must be able to attend 14 study visits at the research site for over approximately 28 weeks.

The study will include a screening period (of 7 weeks), a treatment period (of 8 weeks) and a follow-up period (of 13 weeks).

This study will require admission to the research site 3 times. The first stay for the infusion will take about 48 hours, the second and third visit will take at least 8 hours to complete. However, the actual length of time as well as if it will require an overnight visit is subject to the discretion of the study doctor.

This study involves blood samples being collected.
About The Research Center:

MD Clinical
With over 30 years of experience in managing medical device clinical investigations around the globe, MD Clinical has what it takes to move your product to market swiftly and cost-effectively, saving you precious time and money in the process. MD Clinical unsurpassed clinical and regulatory expertise in medical device market access combined with rigorous anticipatory approach and strong communication means you avoid the unnecessary delays and unexpected problems that affect eight out of ten clinical trials in the world today.
Please note:
Due to the current situation with COVID-19 pandemic, the study team would like to point out the following:
The research site does not treat COVID-19 patients and/or suspected COVID-19 patients.

The research site's waiting area is spacious enough that participants will not be within close proximity to each other.

Hand sanitisers are available at the research site.

The research staff adheres to strict hygienic practices as well as other safety measures to prevent the spread of COVID-19. 

Any staff suspected to have COVID-19, or has come into contact with someone who has COVID-19, will automatically undergo a voluntary quarantine for 14 days.

Interested participants will not be left waiting for a long period of time and will be quickly attended to. 

Parking is available at the research site.

The study team encourages the use of personal vehicles, taxi or rideshare services rather than public transit.

 

The research site/institution is taking all precautionary measures to ensure the safety of the study participants.