COVID-19 Detection Research Studies in Florida Seeks Those Experiencing Symptoms
Please note: This trial has finished recruiting and is not accepting new participants.
Research Center: Comprehensive Clinical Research, LLC
Location: 603 Village Blvd Suite 301, West Palm Beach, FL 33409 United States
Lead Researcher: Ronald Ackerman, MD, FACOG
About these Studies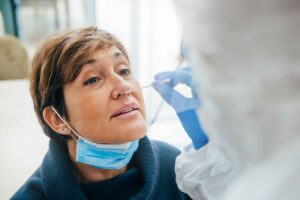 The World Health Organization (WHO) has declared the COVID-19 outbreak as a pandemic and a Public Health Emergency of International Concern. Like other pandemics and emerging disease outbreaks, this pandemic is creating immense disturbances on every sector needed for mankind to thrive. 
Researchers have been continuously finding and developing ways to combat this pandemic. There is currently much emphasis on treatment and prevention, with the vaccines being produced and distributed worldwide. However, there is little focus on data gathering and analysis on the effectiveness of the testing kits for COVID-19 detection. These research studies seek to collect and analyze nasal swab samples of COVID-19 positive individuals to evaluate the accuracy of current testing kits. These research studies may help develop and improve testing kits for COVID-19 detection in the future.  
Why Participate? 
Participants may contribute valuable information that may help test the effectiveness of current COVID-19 testing kits.

If not yet tested, those experiencing symptoms will receive the standard of care test result for COVID-19 at no cost.

Participants will be compensated for participating in any of these studies. Participants may get a total compensation of $175 if they are eligible and participate in all 3 studies. Compensation will only be provided to eligible participants who complete the study requirements.

Participants will be helping to advance COVID-19 medical-related research.
Your Rights
If you decide to participate in these studies and later feel that you no longer wish to be part of it, you can withdraw at any time.

Any information that you provide will be kept strictly confidential, except as required by law.

Qualified health professionals will monitor your health as it relates to these studies.
Who Can Participate?
Men and women aged 18 years old or older who have either:

Tested positive for COVID-19 in the last 5 days and have been experiencing symptoms in the last 10 days

Currently have a fever greater than 100.4°

Currently experiencing any of the following symptoms: 

Fever or chills

Cough

Shortness of breath or difficulty breathing

Fatigue

Muscle or body aches

Headache

Loss of taste or smell

Sore throat

Congestion or runny nose

Nausea or vomiting

Diarrhea

Interested individuals must

not

have been vaccinated for COVID-19
Please note that there may be multiple studies you may qualify for if you meet the inclusion criteria for these studies
Key Details: 
Participation in these research studies may include but is not limited to:
Attending 1 study visit at the research site. However, if the interested participant is

unable

to visit the research center, the researchers may come to the participant's home to collect the nasal swab sample.

Collecting a nasal swab sample

Collection may cause minor discomfort or irritation to the nose. 
About the Research Center: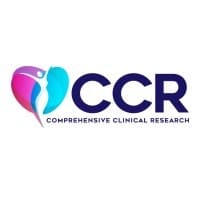 Comprehensive Clinical Research, LLC
Comprehensive Clinical Research is one of the most technologically advanced and accomplished clinical research sites in the United States. Comprehensive Clinical Research is a preferred research facility for the largest pharmaceutical companies globally. Their goals are quality data reporting coupled with patient compliance and safety. Our enrollment and contribution of research to this pandemic have far exceeded expectations. Our research has contributed to thousands of tests being developed as well as vaccines and monoclonal antibody injections that are still the process of being approved.
Please note:
Due to the current situation with the COVID-19 pandemic, the researchers would like to assure the participants that ensuring the safety of the participants as well as the study staff is of utmost importance.