Could Probiotics Potentially Relieve Depression Symptoms? Join This Study to Learn More!
Research Centre: La Trobe University (Bundoora)
Location: Plenty Rd &, Kingsbury Dr, Bundoora VIC 3086, Australia
Lead Researcher: Professor George Moschonis
HREC: This study has been reviewed and approved by the La Trobe University Human Research Ethics Committee
About the Study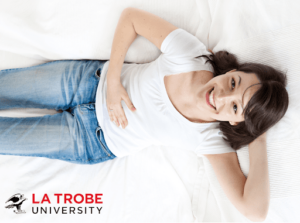 Could there possibly be a link between gut health and providing relief from depression? Approximately 1 in 7 Australians will experience depression in their lifetime. Unfortunately, current treatments available are not always effective in reducing symptoms of depression.
Researchers at La Trobe University are seeking volunteer research participants to be involved in a dietary intervention research study. This study seeks to explore the effects of a probiotic (Biome Lift™ Probiotic) on depression symptoms. If this research study is successful, it may provide an alternative treatment for depressive symptoms. 
Why Participate? 
Participants may receive a probiotic supplement at no cost.

Participants will receive $75 worth of Coles/Myer gift cards for participating in this study. 

Participants may experience improvements in their depression symptoms. 

Participants will be contributing valuable information that may benefit those with depression in the future.

Participants will be helping to advance mental health research.
Your Rights
If you decide to participate in the study and later feel that you no longer wish to be part of it, you can withdraw at any time.

Any information that you provide will be kept strictly confidential, except as required by law.

Qualified health professionals will monitor your health as it relates to the study.
Who Can Participate?
Men and women aged 18-65 years old who have mild symptoms of depression

Must not be diagnosed with Major Depressive Disorder

Must not be taking any nutritional or pharmacological supplements or antibiotics 

Must not have any other mental health conditions (other than depression)

Must be able to attend three (3) study visits at the research site over approximately 3 months
More Study Details 
The study team will explain the research in its entirety but some details are:
This research study is taking place in Melbourne. Participants need to be either living in or able to travel to Melbourne for the study visits.

Participants will meet with the study team's clinical psychologist prior to any participation in the study.

Participants will need to take one probiotic or a placebo daily for 3 months. A placebo looks like the study supplement but does not have the active ingredient.

Participants need to complete one questionnaire about their mood weekly and a set of questionnaires before each study visit.

Saliva, blood, and faecal samples will be collected at each study visit. 
About the Research Centre:
La Trobe University is a public research university based in Melbourne, Victoria, Australia. Its main campus is located in the suburb of Bundoora. The university was established in 1964, becoming the third university in the state of Victoria and the twelfth university in Australia.
Please note:
Due to the COVID-19 pandemic, the researchers would like to assure the participants that ensuring their and the study staff's safety is of utmost importance.