Research Centers: Veterans Affairs Health Administration (Puget Sound Health Care System), University of California, Davis, and Kaiser Permanente Washington Health Research Institute
Location: This is a US nationwide virtual study
Lead Researcher: Kristina A. Crothers, MD
IRB: This study has been reviewed and approved by the Veterans Affairs Puget Sound, and University of California, Davis Institutional Review Boards
About the WISH (Wellness Intervention for Smoking and Health) Study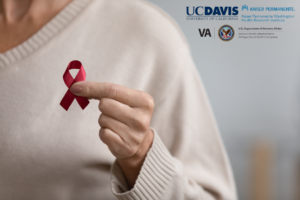 Are you a Veteran with a chronic condition who wants to quit smoking? Then the WISH program might be the help you need!
This virtual study will compare the effectiveness of the WISH program to the services offered through the National VA Quitline. The Wellness Intervention for Smoker's Health (WISH) is a wellness program for Veterans who are living with chronic diseases (like HIV) and who smoke. The program may help Veterans quit smoking or make other changes to improve their health, even if they don't want to stop smoking.
Are you a veteran living with a chronic health condition (like HIV)? Are you interested in working with a virtual coach to make lifestyle changes to improve your health? If so, the WISH study may be right for you!
Why Participate?
All participants will have access to a virtual coach who can help them make healthy lifestyle changes. Changes may include quitting smoking, better managing stress, becoming more physically active, or better managing chronic health conditions.
By participating, you can contribute valuable information that may benefit other veterans.
Participants may be compensated up to $100 for completing virtual study activities.
By participating, you can help advance medical research and possibly improve the services offered to veterans in the future.
Your Rights
If you decide to participate and later change your mind, you can withdraw at any time.
Any information you provide will be kept strictly confidential, as required by law.
Who Can Participate?
Individuals aged 18 and above who are diagnosed with HIV
Must smoke 5 or more cigarettes daily
Must NOT be currently receiving smoking cessation counseling
Must NOT be using any FDA-approved medication to aid in smoking cessation
Must have access to a cellphone with text messaging capabilities
Must be able to participate in this study that involves health coaching via telephone calls and text messaging for approximately 6 months
Any information provided will be kept confidential and will only be used for the purposes of this research study.
More Study Details
The study team will explain the research before individuals decide whether or not to join, but some key details are:
This study is completely virtual–there are no in-person appointments.
You can enroll from anywhere in the country.
Participants will complete 3 surveys: one at baseline, one at 3 months after enrolling, and one at 6 months after enrollment. Each survey will take  about 20-30 minutes and will be done online or by phone.
Participants will be randomly assigned, as by the flip of a coin, to one of two groups. Both groups will have access to phone and text support from a health coach, but one group will receive standard services offered by the VA and one will receive services offered by study staff.
Participants will be encouraged to make one or more healthy lifestyle changes.
Study staff may collect some information from participants' medical records with the VA.
This study is sponsored by the National Cancer Institute of the National Institutes of Health
About the Research Centers:

University of California, Davis
The research division at University of California, Davis seeks to solve the world's most pressing challenges. Research is in their DNA and they are powered by collaboration.

Kaiser Permanente Washington Health Research Institute
The Kaiser Permanente Washington Health Research Institute aims to make health and health care better for everyone. They are constantly discovering new ways to prevent illness and improve treatment.

Veterans Affairs Health Administration -VA Puget Sound Health Care System
The Veterans Health Administration is America's largest integrated health care system. The VA serves 9 million enrolled Veterans each year.
Please note:
This study will be conducted remotely. There are no in-person visits, allowing you to participate in the comfort of your own home.