Research Center: The University of Texas Medical Branch Clear Lake Campus
Location: 250 Blossom St 3rd Floor, Webster, TX 77598
Lead Researcher: Steven R. Fisher, PhD, PT, GCS
IRB: This study has been reviewed and approved by The University of Texas Medical Branch Institutional Review Board
About the Study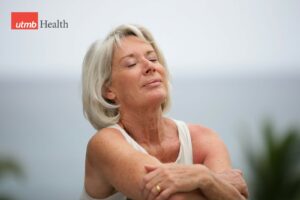 Are you struggling with urgency urinary incontinence or an overactive bladder? Roughly 1 in 4 women over the age of 40 will develop urinary incontinence in their lifetime, and this can be a distressing and unpleasant condition to live with. If you're looking for ways to help manage your condition, then this study may be just for you!
Researchers from The University of Texas Medical Branch are looking for participants for a study that aims to compare the effectiveness of three commonly used treatments for urgency urinary incontinence and overactive bladder in women. This study is important not just for ordinary women, but also those who have a higher risk of falling in their everyday lives. The hope is that this study will provide a clear comparison between the three typical treatments and will help further researchers' understanding of how to best treat this condition!
If you are interested in participating and want to further our knowledge of how to help others with this condition as well, then join this study today!
Why Participate?
Participants will receive one of three tried and tested treatments for urgency urinary incontinence and an overactive bladder at no cost to themselves.
Participants will be compensated for participating in this study.
Participants do not have to complete the full study to be eligible for compensation.
Participants may experience improvements in their urgency urinary incontinence and overactive bladder symptoms.
Participants will be contributing valuable information that may benefit those with these conditions in the future.
Participants will be helping to advance medical research.
Your Rights
If you decide to participate in the study and later feel that you no longer wish to be part of it, you can withdraw at any time.
Any information that you provide will be kept strictly confidential, except as required by law.
Qualified health professionals will monitor your health as it relates to the study.
Who Can Participate?
Women aged 60 years and above who are diagnosed with urgency urinary incontinence or overactive bladder
Must be able to walk with or without any assistive device
Must have Medicare or any private insurance
Must not be living in a nursing home
Must not currently be undergoing active treatment with chemotherapy or radiation for Genitourinary cancer
Must not be taking antimuscarinic drugs or Digoxin
Must not plan to start a new OAB treatment (medications or surgery) within the next 6 months
Must not have glaucoma, myasthenia gravis, chronic liver or kidney diseases, Multiple Sclerosis, Parkinson's Disease, TBI dementia, or history of stroke with limited mobility
Must be able to attend study visits at the research site over approximately 6 months
More Study Details
The study team will explain the research in its entirety but some details are:
This study will make use of three possible tried and tested treatment options that you will be given via a random process:

A 12-week supply of once-daily Mirabegron extended-release tablets. Mirabegron is a prescription medicine for adults used to treat overactive bladder (OAB) with symptoms of urgency, frequency, and leakage.
A 12-week supply of once-daily Trospium Chloride tablets. Trospium Chloride is a prescription antimuscarinic drug used to treat overactive bladder.
A 12-week course of pelvic floor muscle training supervised by a female women's health physical therapist at a UTMB clinic.
You will be notified by phone about your group assignment. Clinically relevant results of this research will be communicated to you after the study is completed.

Research staff will determine your eligibility to participate in the study through a study physician or a staff member conducting a questionnaire on your medical history.
Participants will be required to undergo some physical activities as a matter of testing your mobility.

This involves a timed walk, rising from a chair a few times, a standing balance test and some questionnaires.
About the Research Center

The University of Texas Medical Branch
The University of Texas Medical Branch, established in 1891 as the University of Texas Medical Department, has grown from one building, 23 students, and 13 faculty members to a modern health science center with more than 70 major buildings, more than 2,500 students, and more than 1,000 faculty.
Location