Research Center: IONIQ Sciences (FKA ProLung Inc)
Location: 350 W 800 N #214, Salt Lake City, UT 84103, United States
Lead Researcher: Rex C.W. Yung, M.D., FCCP, FAPSR
IRB Committee: This study has been reviewed and approved by the Salus Institutional Review Board
About the Study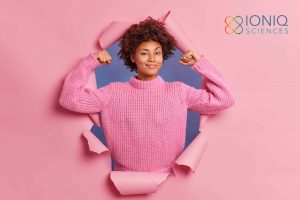 An early cancer diagnosis can save lives. The earlier a diagnosis can be determined, the more chances to receive treatment earlier on in the disease progression and improve quality of life.
This research study is exploring the effectiveness of the IONIQ ProLung System, a device that's designed to determine the likelihood of cancer or malignancy. This device measures how small amounts of electricity move through one's body. The results of this study could lead to the development of a non-invasive, rapid, multi-cancer screen that will detect cancer early in the disease timeline to speed up treatment and save lives.
Why Participate? 
Participants will be contributing to research that may help to develop cancer prevention methods.

This study is focused on better detection methods to catch cancer early and save more lives.

Participants will be compensated $75 for each study visit they attend. 

Participants will be helping to advance medical research.
Your Rights
If you decide to participate in the study and later feel that you no longer wish to be part of it, you can withdraw at any time.

Any information that you provide will be kept strictly confidential, except as required by law.

Qualified health professionals will monitor your health as it relates to the study.
Who Can Participate?
Adults aged 18 and above who are diagnosed with cancer OR h

ave a lesion

Have not yet received treatment for cancer

Must be able to attend 1-4 study visits at the research site 
Key Study Details 
The study team can explain the research study in its entirety but some study details are:
Participants will be asked to answer questions about their smoking history and exposure to industrial or environmental carcinogens.

Participants will be asked to complete a brief questionnaire.

Participants will be asked to provide a copy of their imaging, biopsy, or pathology results.

Participants will be asked to complete ProLung Test measurements. The study team can further elaborate on this. 
About the Research Center:

IONIQ Sciences (FKA ProLung Inc)
IONIQ Sciences' vision is to dramatically improve the cancer landscape with a modern solution at the point of care for early detection of multiple cancers thereby expanding the therapeutic window, significantly improving survivability, and reducing the cost of healthcare.
Please note:
Due to the current situation with the COVID-19 pandemic, the researchers would like to assure the participants that ensuring the safety of the participants as well as the study staff is of utmost importance.