Research Center: Fort Benning, Columbus, GA
Location: Remotely from your current location
Lead Researcher: Kathleen Chard, Ph.D.
IRB Committee: This study has been reviewed and approved by the University of Cincinnati Institutional Review Board
About the Study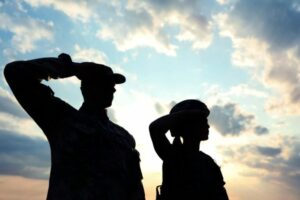 Posttraumatic stress disorder (PTSD) is a mental health condition triggered either by experiencing or witnessing a traumatic event. Symptoms may include flashbacks, nightmares, anxiety, as well as uncontrollable thoughts about the event. Symptoms of PTSD may start to appear one month after experiencing a traumatic event.
Clinician-Administered PTSD Scale for DSM-5 (CAPS-5) is the gold-standard tool used to assess the presence and severity of PTSD in an individual. This study aims to find out the reliability of these tools and compare them with the previous PTSD assessment tool (CAPS-IV).
The study seeks active duty military personnel aged 18 years or older who are experiencing symptoms of PTSD (diagnosed or suspected). Participants may be asked to complete up to 7 study visits virtually for up to 4 months. Participants may get up to $600 for participating in this study. Participation in this study may help identify more effective ways to assess the presence and severity of PTSD.
Why Participate?
You may receive up to $600 for participating in this study.
You may be helping active duty military personnel (including the Army,
Navy, Marines, Air Force, and Coast Guard) who suffer from PTSD.
You may help in evaluating the effectiveness of assessment tools for PTSD.
You will be helping to advance medical research.
Your Rights
If you decide to participate in the study and later feel that you no longer wish to be part of it, you can withdraw at any time.
Any information that you provide will be kept strictly confidential, except as required by law.
Qualified health professionals will monitor your health as it relates to the study.
Who Can Participate?
Active duty military personnel who are 18 years old or older.
Individuals experiencing symptoms of posttraumatic stress disorder (PTSD) or who have experienced a traumatic life event.
Participants must be able to complete up to 7 study visits* virtually over approximately 4 months.
Participants will complete all study visits virtually and must have internet access as well as a smartphone, tablet, or laptop.
*Number of visits required is dependent upon the study condition.