Research Center: The University of Texas at Austin, School of Nursing
Location: This is a virtual study open to nurses in the United States
Lead Researchers: Megan Hebdon, Ph.D., DNP, RN, NP-c, and Carolyn Phillips, Ph.D., MSN, RN, AOCNP
About the Study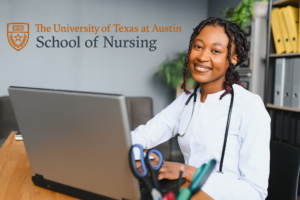 Not much research has been done on nurses who are also family caregivers. But they are a vital group of people that the health care system could not function without. Nurses who provide long-term care for family members on top of their careers carry an increased load of responsibility. This can create added stress.
This study wants to understand the financial and emotional well-being of nurses who are also family caregivers. This research hopes to find ways to provide better support for this group of people through a stakeholder-informed intervention. Improving support systems for nurses who are family caregivers, could potentially improve their well-being.
Why Participate?
Participants will be compensated up to $105 for participating in this study.
(If the research team suspects any fraudulent behavior, they will be requesting identification before providing any form of compensation.)
Participants will be helping researchers to get a better understanding of the well-being of nurses who are also caregivers.
Participants will be contributing valuable information that may benefit nurses who are family caregivers in the future.
Your Rights
If you decide to participate in the study and later feel that you no longer wish to be part of it, you can withdraw at any time.
Any information that you provide will be kept strictly confidential, except as required by law.
Who Can Participate?
Men and women aged 18 and older.
Must have been employed as a nurse (LPN, RN, APN, nurse faculty, graduate nursing student) within the last 2 years.
Must be currently providing 10 or more hours of care per week for an individual with a chronic illness.
Must have access to email and to internet/WiFi and smartphone/computer for online surveys and Zoom interviews.
Must be willing to complete a 15- to 30-minute online survey and up to 2 Zoom interviews that will take 60 minutes each.
More Study Details
The study team will explain the research in its entirety but some details are:
Participants will be asked to take a 15-30 minute online survey where they will answer questions about their role as a nurse and family caregiver.
At the end of the survey, Participants will be asked if they can be contacted for further steps in this research study.
This will include:

60-minute Zoom call or in-person interview, and a 60-minute focus group interview via Zoom.
The audio from either interview will be recorded and transcribed.
About the Research Center:
The University of Texas at Austin, School of Nursing
The University of Texas at Austin's School of Nursing is one of the USA's leading nursing schools. It has a strong focus on service through community-based clinics. It prides itself on its diverse student body, strong academic programs, and collaborative partnerships. The School of Nursing is also a producer of "cutting edge research" which aims to further the base of knowledge concerned with health behaviors and health promotion across the lifespan.
Please note:
Due to the COVID-19 pandemic, the study will be conducted remotely which means there will be no in-person visits, allowing you to participate in the comfort of your own home.