About the Study
Research Center: University of Wisconsin-Madison (Department of Medicine)
Location: 1685 Highland Avenue,5158 Medical Foundation Centennial Building, Madison, WI 53705-2281
Lead Researcher: Loren Denlinger, MD, PhD
IRB Committee: This study has been reviewed and approved by the Vanderbilt Institutional Review Board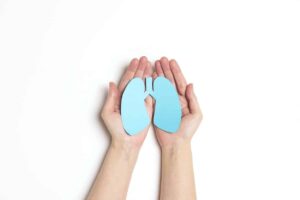 Asthma is a long-term disease that affects the air passages of the lungs and causes breathing problems. According to the World Health Organization (WHO), in 2016, more than 339 million people had asthma globally. The proper management of asthma can allow people to enjoy a good quality of life.  Asthma is different for everyone, and so is the approach for managing it.
This study is called PrecISE (Precision Interventions for Severe and/or Exacerbation-Prone Asthma Network). This is a multi-site study sponsored by the National Heart, Lung, and Blood Institute. This study aims to find new treatments for severe asthma using a new potential approach in medicine called precision medicine. Precision medicine is a method that customizes the choice of medicines to patients based on their biomarkers. Biomarkers are bits of information about you, based on the results of different tests, including blood tests, analyses of your breath, and genetic tests. Researchers hope to learn more about treatments that are specific to individuals and the severity of their condition. 
Interested participants must be 12 years old or older who have been diagnosed with asthma. Participants must be willing to comply with all study requirements. Compensation will be provided to eligible participants.
Why Participate? 
You may contribute to developing new and personalized treatments for severe asthma.

You may be able to receive several therapies with medications provided and have regular monitoring. You will also be able to talk with an asthma specialist.

You may contribute useful information that may benefit others with asthma in the future.

You will be compensated up to $1375 per treatment period

.

You will be helping to advance lung health research.
Your Rights
If you decide to participate in the study and later feel that you no longer wish to be part of it, you may withdraw at any time.

Your records relating to this study and any other information received will be kept strictly confidential, except as required by law.

Qualified health professionals will monitor your health as it relates to the study.
Who Can Participate?
Participants aged 12 years old or older who are diagnosed with severe or uncontrolled asthma. Severe or uncontrolled asthma is defined as taking medications daily to manage asthma symptoms.

Interested participants under the age of 18 need parental or legal guardian consent to participate in this study.

Participants must not be a

current

smoker. There are other restrictions related to smoking that the study team can further discuss with interested participants.
Participants must either own or are able to obtain a device with iOS 11+ such as iPhone, iPad or iPod, or a smartphone or tablet running on Android 5.0+.

Participants must be able to attend monthly study visits at the research site for over approximately 1 to 3 ½ years. 
About The Research Center

University of Wisconsin
The University of Wisconsin Asthma, Allergy, and Pulmonary Research team is a nationally known research facility that has been studying asthma for over 30 years. Our center has conducted over 400 research studies with children and adults on topics such as the role of genetics in asthma, treatment of asthma in children, and how colds affect asthma. Our research efforts, along with the thousands of people who have been in our studies, have helped to develop new asthma medications and guidelines for treating asthma.
Please note:
Due to the current situation with the COVID-19 pandemic, the study team would like to point out the following:
The research site does not treat patients with active or suspected COVID-19.  

The research site's waiting area is spacious enough that participants will not be within close proximity to each other.

Hand sanitizers are available at the research site.

Study participants are required to wear a face mask at all times during their visit.

The research staff adheres to the CDC guidelines and strict hygienic practices as well as other safety measures to prevent the spread of COVID-19. 

To prioritize the participants' and the study team's health, the research site is taking all precautionary measures for COVID-19. These precautionary rules and guidelines are site specific. The study team can explain further on this.
Study Location