Research Center: The University of Illinois Chicago
Location: The University of Illinois Chicago, 1747 W. Roosevelt Rd, Chicago, IL 60608, United States
Lead Researcher: Robin Mermelstein, Ph.D. (Principal Investigator); Kathleen Diviak, Ph.D. (Co-Investigator)
IRB: This study has been reviewed and approved by the UIC Institutional Review Board (protocol #2017-0948)
About the Study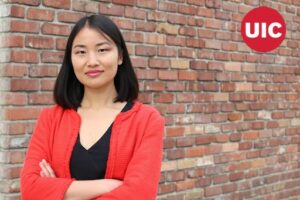 Although cigarette smoking has decreased in popularity in recent years, the CDC estimates that 1 in 5 deaths in the US is caused by cigarette smoking. It's well-known that smoking causes major health complications, but many people still find this habit extremely difficult to break.
This is why researchers at the University of Illinois are investigating whether smokers who switch to using e-cigarettes and receive health coaching can reduce their consumption of regular cigarettes. Scientists want to establish if this could have a positive impact on their health, as recent studies suggest that e-cigarettes contain fewer harmful chemicals than tobacco smoke. This study will also compare the experiences of using e-cigarettes with smoking conventional cigarettes. Hopefully, these differences can be used to understand the efficacy of using e-cigarettes as an aid for reducing cigarette consumption and reveal the potential health impacts of this change.
Why Participate?
Participants will receive the opportunity to try to switch from cigarettes to e-cigarettes at no cost with the support of a health coach.
Participants will be compensated for participating in this study.
Participants will be contributing valuable information that may help cigarette smokers to quit in the future.
Participants will be helping to advance health research.
Your Rights
If you decide to participate in the study and later feel that you no longer wish to be part of it, you can withdraw at any time.
Any information you provide will be kept strictly confidential, except as required by law.
Who Can Participate?
Men, and women aged 21 and older, interested in reducing their cigarette use.
Must be willing to try a study-provided e-cigarette.
Must be able to attend 8 study visits at the UIC research site over approximately 4-5 months.
More Study Details
The study team will explain the research in its entirety, but some details are:
Study visits are held at the research office on the west campus of UIC at 1747 W. Roosevelt Rd. in Chicago. There is parking available directly outside the building, and it is easily accessible by public transportation.
Participants will substitute their regular cigarettes with an e-cigarette, either your usual flavor or other flavors, for 12 weeks. Participants will receive a standardized research e-cigarette (SREC) and learn how to use it. They will also work with a health coach to develop a plan to decrease their smoking.
During the study, participants will receive health coaching and complete electronic diary entries about their experiences using the e-cigarette. During their visits to the research site, they will have tests to measure health markers and complete questionnaires. Participants will also have bi-monthly check-ins with the study team and have a follow-up at the end of the 4-5 months.
About the Research Center:

The University of Illinois Chicago
The University of Illinois Chicago prides itself on being one of the most ethnically and culturally diverse institutions in the country. Boasting 95 bachelor's programs, the university recognizes that the modern world presents an array of fast-changing needs. As such, UIC remains dedicated to addressing the opportunities and challenges of the 21st-century world through its research.
Location: