Please note: This trial has finished recruiting and is not accepting new participants.
Research Center: CSIRO Division of Animal, Food and Health Sciences
Location: West End of North Terrace (SAHMRI Building)
Lead Doctors: Dr Emily Brindal   
Ethics Committee: Reviewed and approved by the CSIRO Animal, Food and Health Sciences Human Research Ethics Committee
Background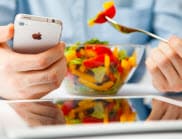 Though many people successfully lose weight, 4 out of every 5 people find themselves unable to maintain their weight loss. The CSIRO is conducting a research study in North Terrace aiming to learn how iPhone and Android apps can help with successfully keeping excess weight off.
Participants will receive the application and will also receive a $40 gift card for use at Coles-Myer, Coles Express, Liquorland, Vintage Sellers, First Choice and more at the conclusion of the study.
Benefits of Participation
You may have increased success in maintaining weight loss.
You will be compensated with a $40 gift card for your participation.
You will receive the iPhone or Android app designed to keep excess weight off.
You will be helping to advance medical research.
Your Rights
If you decide to participate in the study and later feel that you no longer wish to be part of it, you may withdraw at any time.
Your records relating to this study and any other information received will be kept strictly confidential.
Upon completion, the results of the study will be shared with you but only at the group level. (not your personal results)
Who Can Participate?
Males and Females ages 18 and over.
Lost at least 5% body weight within the past two years.
Own a Smartphone. (excluding Windows phones)