Please note: This trial has finished recruiting and is not accepting new participants.
Research Center: Optimal Clinical Trials
Location: Level 2, 97 Grafton Rd, Grafton, Auckland
Lead Doctor: Penelope (Penny) Montgomery 
Ethics Committee: This study has been reviewed and approved by the Health and Disability Ethics Committees
Background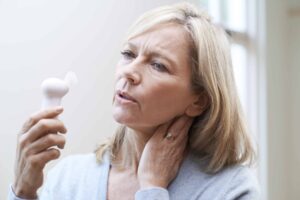 Vasomotor symptoms (VMS) known as hot flushes and night sweats are commonly experienced by postmenopausal women as well as breast cancer survivors receiving hormone therapy. 
Non-hormonal medications have demonstrated effectiveness in reducing these symptoms, however at a far lower impact than those treatments that include hormonal medications. For women with a history of breast cancer who are receiving endocrine therapy including tamoxifen and aromatase inhibitors, the current treatments for vasomotor symptoms are not advised. Hence, there is a real need for an approved, non-hormonal therapy for breast cancer survivors experiencing Vasomotor symptoms.
This study is enrolling women who currently have breast cancer or a history of breast cancer that are currently taking tamoxifen or aromatase inhibitors. Participants are asked to attend 6 study visits at the research site over a 9 to 10 week period. 
Why Participate? 
You may experience a relief in hot flushes and/or night sweats (however this is not guaranteed).

This investigational treatment could potentially alleviate hot flushes for breast cancer patients.

You may be reimbursed for any reasonable travel, parking, meals, and other expenses associated with research study visits.

You will be helping to potentially improve the quality of life and sleep of women who have been diagnosed with breast cancer.

You will be helping to advance medical research.
Your Rights
If you decide to participate in the study and later feel that you no longer wish to be part of it, you may withdraw at any time.

Your records relating to this study and any other information received will be kept strictly confidential, except as required by the law.

Qualified health professionals will monitor your health as it relates to the study.
Who Can Participate?
Women between 18-70 with history of or current breast cancer

Taking tamoxifen or aromatase inhibitors 

Are experiencing at least 50 hot

flushes

per week

Able to attend 6 study visits at the research site over approximately 9weeks